You plan to import products (or even personal effects) in Vietnam ? Then your goods must pass by the customs ! This is a mandatory step to import things into the country (and it is the same worldwide, basically).
In this page we will check in details the whole process to import goods into the country. We will also have a quick look on norms and compliance in Vietnam.
Finally, note that we provide such services, so feel free to contact us if you plan to ship something to Vietnam !
Regulations and customs in Vietnam
Customs classification
The classification of imported and exported goods is based on:
The

Vietnamese classification list of imported and exported goods

; the nomenclature of preferential import tariffs; the export tariff nomenclature;
Six (6) general

HS Convention rule

s;
The

mandatory explanatory notes

to the HS Convention;
Make references to the

additional explanatory

notes to the harmonized tariff nomenclature and detailed explanatory notes to the harmonized system of description and coding of goods (HS).
What is HS Code ?
The Harmonized System (HS) of tariff nomenclature is a harmonized system of names and numbers used to classify products sold internationally. This codification is developed by the World Customs Organization (WCO).
These codes are used to calculate duties and taxes, relating to a cross-border shipment, by a local customs authority.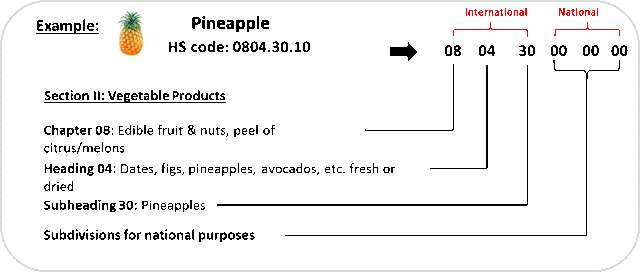 You will find further information directly on this link : HS Code - World Customs Organization
Import procedures
Commercial entities, including companies with foreign capital holding legally a registered operating license, may be engaged in direct import and export activities. However, foreign-invested enterprises can import materials, equipment and machinery only to establish production chains and produce goods in accordance with their investment licenses. Under the WTO commitments made by Vietnam, marketing rights are now open to all foreign-invested enterprises. Vietnam is facilitating an automatic import licensing system that requires importers of a large category of goods to obtain a license from the Ministry of Industry and Labor to pass their goods through customs. The distribution rights of these entities are open to joint ventures with no capital limit and, since 2009, to companies with entirely foreign capital.
Seven departments and agencies are responsible for overseeing a system of minimum quality / performance standards for the protection of animals and plants, health security, compatibility of local networks (in the case of telecommunications) and monetary security. Goods that meet the minimum standards can be imported on demand and in unlimited quantity and value.
When carrying out customs procedures for imported goods, customs declarants must submit and present a customs file to the headquarters of the customs subsection and be responsible for the legality and legitimacy of customs files and accuracy of the contents declared on the customs declaration form.
Astuce FNM : You want further information about the process ? Feel free to contact us or you can directly check this official page : Customs in Vietnam

Required documents
Bill of lading;
Import goods declaration form;
Import permit (for restricted goods);
Certificate of origin
Cargo release order;
Commercial invoice;
Customs import declaration form;
Inspection report;
Packing list;
Delivery Order (for goods imported through seaports)
Technical standard/health certificate; and
Terminal handling receipts.
Regulations and norms in Vietnam
Standardization bodies
FAQ | Customs Clearance in Vietnam
🔖 What is an HS Code?
HS Code stands for Harmonized System, which is a system of names and numbers developed by the World Customs Organization (WCO) used to classify products being sold internationally in order to calculate duties and taxes.
🧾 What documents are required to import into Vietnam?
It is necessary to have several documents when you want to import goods into Vietnam: bill of lading, a certificate of origin, an import goods declaration form, an import permit, a commercial invoice, a customs import declaration form, and many others. Find them all in the article about FNM Vietnam!
💻 What are the procedures for importing into Vietnam?
Before importing goods into Vietnam, it is important to have a registered business license and to meet certain minimum quality/performance standards for certain categories of items. We recommend that you refer to the FNM Vietnam article for more information on this subject.
🖋 What are the regulations and norms in Vietnam?
There are 3 standards to be respected in Vietnam which are the QUACERT, the TCVN and the QUATEST 3. Be sure to ask about these 3 so that you will not have any surprises when doing business in Vietnam.
🔎 Where can I get more information about customs clearance in Vietnam?
In order to know everything you need before importing into Vietnam, we recommend that you visit the websites of IPTC, VASEP, Vietfood and VSA.
DocShipper info: Did you like this article? You may also like the following:
Adivce FNM :We help you with the entire sourcing process so don't hesitate to contact us if you have any questions !
DocShipper | Your dedicated freight forwarder in Vietnam !
Due to our attractive pricing, many customers trust our services and we thanks them. Stop overpaying the services and save money with our tailored package matching will all type of shipment, from small volume to full container, let us find the best and cost-effective solution.
Communication is important, which is why we strive to discuss in the most suitable way for you!