You have effects, but you don't know where to put them. We offer a storage service that allows you to store your belongings there. In this article, he will explain the options available to you if you plan to store your belongings.
1) What kind of storage services do you need ? 
1.1) Storage of commercial goods
We can handle the storage of your goods for your company. Our great warehouses enable us to safely store your goods, whether they are documentary archives, furniture, machinery… or all other categories. We can follow all your requirements, and provide pickup, management and distribution services if needed. Our services are in Vietnam and internationally.
1.2) Storage of personal effects (furniture storage)
You're moving from or to Vietnam? You're not able yet to receive your goods, so you need a furniture storage? We can use our warehouses to store all type of personal belongings during all the necessary time.
FNM Note: Our state-of-the-art warehouses are constantly watched by CCTVs and security staff. All movements inside and outside are taped, for an optimal security. Contact us to learn more.
1.3) Bonded warehouse in Vietnam
Without regarding the necessary time, we can store all volumes of goods under bonded warehouses. It is an advantage, because you can benefit from eventual trade policy changes. If you're not sure about the attractiveness of your products, you can store them waiting for sales to come, without paying customs tariffs. Also, you're gaining competitiveness because the import taxes are only applied if your goods are sold in Vietnam. If you re-export them to another destination, you will only be liable to the warehousing fees.
1.4) How to store goods, depending on their type?  
1.4.1) Storage of hazardous goods
Dangerous goods must be stored in a way that reduces at most any risk of incident. Also, our employees in our warehouses will operate the less operations possible, in order to reduce their exposition on such products. All the risks must be announced before the storage and all the necessary precautions must be taken:
The strict following of instructions given by the manufacturer, described on the MSDS document and the security datasheet
The stock optimization, in order to reduce the hazardous substances stored in our warehouses
The separation of incompatible products
Prevent any leak or accidental freeing of such products
In any case of product liberation, be correctly equipped to handle the incident. Ensure that employees are trained to handle such issues
Train correctly staff to handle these products. Like using protection equipment and appropriated tooling
Verify if the labelling of these products is correct
1.4.2) Wood storage
Wood, whether it is raw or in planks, needs to be carefully stored:
It should not outer pass a certain storage height
It must be regularly inspected
No bulk goods must be stored on top of it
It must be stored as close to the ground as possible
1.4.3) Glass storage
Glass must be stored according to the following dispositions:
It must be stacked with a particular angle
It must be handled with adapted equipment
The storage shelves must never be overloaded
1.4.4) Storage of food products
Food products must be stored correctly in order to follow the necessary hygiene conditions:
The temperature must be strictly controlled in all the storage areas
The expiration dates must be strictly respected
All storage zones must be constantly clean and regularly maintained
The storage areas must be not crowded, so the air can correctly flow in all rooms
The instructions on the products packing must be drastically followed
Employees managing these goods must be correctly trained
Food products should never be contaminated
2) 3PL logistics and ecommerce fulfilment in Vietnam
You're sourcing products made in Vietnam? You need a local interlocutor to communicate with your suppliers? You're not proficient enough in logistics and inventory management?
Our fulfilment services are ideal for all entrepreneurs purchasing or selling in Vietnam. As a 3PL logistics provider, we can propose you warehousing and shipment solutions for all local or international destinations.
2.1) Our call center
If you're searching for a company that knows how to treat clients, you're on the right page. But how are we different?
Our collaborators are well-trained and have good interpersonal skills, they will represent your business perfectly. Our employee's turnover is very low, so our collaborators are used to your products and your enterprise. Data concerning your company and your customers will be safely kept and never disclosed.
2.2) Fulfilment services for ecommerce
Fulfilment is a complex process. Because it is the last link of your supply chain, it has a major influence on how the client is perceiving your company. Indeed, the fulfiller is the last person to have your goods in hands, before the client.
2.3) All the tasks that a 3PL services supplier can accomplish
Your 3PL subcontractor must ensure that the suppliers' shipments are coming on time, the call centre is perfectly answering to the customers' requirements and that fulfilment and inventory management are efficiently done.
FNM Note: Our 3PL solutions are tailored to your requirements. As freight and logistic experts, we're fully proficient and committed to handle your whole supply chain. Contact our consultants to see how we can work together.
3) Warehousing services
3.1) What defines a qualitative fulfilment and storage?
Security – A well-managed warehouse is equipped with CCTVs, security staffs and fire extinguishers.
Cleanliness –The warehouse must be regularly cleaned and follow the international storage standards of organisation.
Standard Operation Procedures (SOP) – Process and automatization should be in the centre of the management system for an orchestrated management of all goods stored.
Qualified interlocutors – Your customers must contact a skilled, warm and polite customer support. It is important for a great 3PL experience.
3.2) Pick and pack procedures
These are the steps where your goods, freshly delivered by your suppliers, are repackaged individually and shipped to your customers. Once that the shipment is received, it enters in our inventory system. After, your goods are selected from the store, consolidated before being sent in one shipment to your client. This process is enabling to quickly consider any change occurring during the operation. The parcel is finally delivered to the customer, who is given a receiving document and a packing list.
3.2.1) Benefits of picking & packing
It will help you win in efficiency. Indeed, you will save a precious time, because this process eliminates all useless intermediates. Your goods are not needing to be retrieved from different places and reunited in one warehouse to be packed and labelled. Your client order is accomplished asap. It will also help you to control your costs.
This process is available for different sizes of orders, so the minimum cost of shipping is not applied.
3.3) Labelling goods and the warehouse
In warehouses, the labelling system enables to eliminate all organisational problems. It permits to identify each product easily, according to their place, their shelf and their carton. Each label contains data collected in our computer system. They indicate for instance the precautions of handling or the expiration date.
Location mistakes, restoring in the wrong place, mixing products in inventories and in shipments are heavily reduced.
FNM Note: Our warehouses are using the labelling system to surround all our storing zones. Hence, our collaborators are locating products quickly, to accomplish all the following process.
3.4) Inventory and storage management
The inventory management can be simply defined. It consists in having products in correct quantity, at the right place, at the right moment, and at the right price in our inventory. The question is how to determine the best strategy to manage the inventory?
3.4.1) How to determine the right price for my inventory?
You don't want inherent charges to be excessive for each product. But a low price is neither a great news. Suppliers are always providing decreasing rates depending on the quantity you're buying. Such "opportunities" can even encourage you to buy more than needed.
But, it's not the best move for your company, because each product stored comes with numerous fees associated. The bigger your inventory is, the bigger the fees will be. The risk of unsold items can't be neglected also.
To avoid this situation, you can use the economic order quantity formula (EOQ). It enables you to determine the number of units that requires to be added to your inventory. This formula will help you reduce the total cost of management.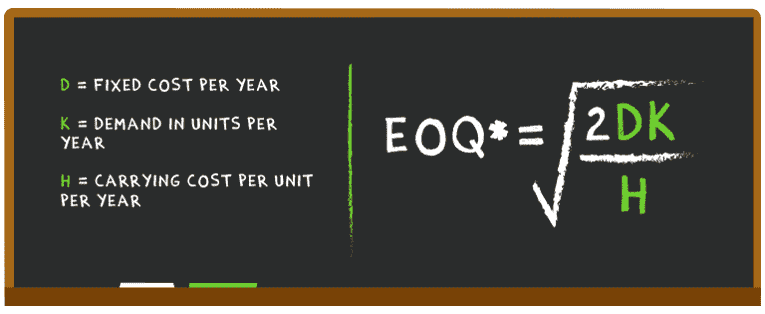 What is a safety stock and how is it important?
The safety stock can be described as an emergency stock, that you will have to use in case of any unpredicted event. It can be caused by any unpredictable parameter influencing your market, like heavy snows for a seller of winter tyres. Here is the formula to determine it:

3.4.2) How to determine the reorder point for a new inventory?
The EOQ enables you to know the inventory level that you should maintain. After, you should determine the best moment to stock up again. It will ideally be when your actual stock is almost sold out. If your replenishment is coming too early, further spaces will be required to store them. If it comes too late you will be sold out.
In sold out situations, you can put your client's purchase pending. But you're risking losing them in this situation. The reorder point helps you to avoid this kind of situations by always having a stock available.
Here is how you will be able to calculate it:

3.4.3) How to find the ideal place to distribute your inventory?
Do you have a multichannel strategy to sell your products? If yes, you're certainly aware of the daily challenge to have the right quantity of product at the right place.
The benefit of a marketplace is to centralize the inventory management. It enables you to reduce this issue. On the other hand, other challenges are arising, like the availability of your products in your inventory. One of the existing solutions is the cross-docking.
3.5) What is Cross-Docking?
Cross-docking is a supplying strategy consisting in distributing directly your products, from your supplier to your client. The warehousing time is extremely reduced, or non-existent.
Cross-docking terminals are less expensive than traditional warehouse. It enables you to rationalize your supply chain from A to Z. Products are arriving at the distribution point (the cross-docking terminal) and at your client's address as soon as possible. Warehousing fees are reduced because your supply chain isn't needing a lot of workforce.
4) Special warehousing services
4.1) What is reversed logistic?
The reversed logistic is aiming to optimize the flows coming from the customer and going to the supplier. The customer support, the recycling, the return of defective products, articles in end of cycle are entirely apart of this concept.
4.2) Distribution centre management in Vietnam
For entrepreneurs having an ecommerce aimed to the Vietnamese market, having a distribution centre for the fulfilment in Vietnam is essential in order to penetrate this market.
An efficient centre is having the following characteristics:
Their warehousing services are competitive – Because you need to store an important number of products, inherent fees to manage your inventory must be as reduced as possible. But competitive doesn't mean cheap, because your warehousing must be well managed and secured first.
The packing of your goods is made on demand - This will enable you to send several shipments of bulk products to your warehouse in Vietnam. After they will be conditioned on place before shipping to the final client. This will drastically reduce your logistic costs.
The management of sensitive products is well led - On Vietnamese ecommerce, the most popular imported items are food products and cosmetics. These two families of products are considered as sensitive by the customs authorities. Because they are containing powder, liquids or food, specific customs procedures must be followed to import them. In these conditions, your fulfilment partner in Vietnam must be used to the management of this kind of products.
The inventory management must be technologically made - Distribution centres are dealing with very complex inventory management operations, like receiving, returning, refunding, planning… With such a great amount of entering and exiting flows, technologies are very useful tools. They allow to use your products data in order to handle better your inventory.
4.3) Cold storage
For a cold storage, humidity and temperature control must be complete. Airing, cooling and heating systems are enabling to ensure a precise humidity rate and temperature. Dehumidifier are helping to handle humidity. Cooling are helping to set the humidity by modifying temperature in the storage space.
Each type of goods is needing its own storage conditions:
Textiles: Clothes and some sort of antiques must be ideally stored between 2 and 24°C, with humidity rate around 55%. Ideally, they must be packed in cedar wood or silk paper.
Paper: Books, magazines… are yellowing because of the heat. They must be stored at humidity rate below 35% and at a temperature between 2 and 24°C.
Metals: Poorly stored, some metals are deteriorating like copper that is getting green, silver that will turn black and iron that will rust. Like paper, they must be conserved between 2 and 24°C with a humidity rate between 35 and 55%.
Discs: All types of discs, from vinyl to CDs, needs to be stored in a cool place, between 16 and 22°C ideally and with a humidity rate of 50%. They should not be exposed directly to solar light to not spoil their surface. It is better to keep them in their original packing.
Electronics: Soundsystem, cameras, telephones can moisturize if they are exposed too long to air. It is advised to store them between 11 and 25°C with a humidity rate not exceeding 25%.
FNM Note: The storage temperature in our different cold rooms is entirely adaptable, and can reach -30°C. For a total capacity of 2000 square meters of negative cold, you can rely on FNM Vietnam to store your goods
5) What are the benefits of outsourcing the inventory?
It is not a simple decision to determine if your enterprise must integrate or externalize its storing operations. Like all supply chain strategy, there is advantage and drawbacks between the two solutions. It is your duty to weigh pros and cons and determine which strategy is the most adapted to your situation. Many things that it is only a financial question, but numerous other parameters are engaged. The following table is providing a summary of the pros and cons of externalization, to help you choose.
Subcontracting your stock management
Advantages
Drawbacks
3PL services suppliers are experts in logistics, which is maybe not your case.
You don't have a direct control on your inventory. Seeing it may be reassuring for you
Optimize your budget and reduce expenses, because handling a stock is onerous.
You should stay in touch regularly with your subcontractor, so he fully understands your inventory management. It takes a certain time to optimize all your goods' flows.
Your supplier can consolidate shipments to reduce shipping costs.
You have a less strict control of your data.
It enables you to stay focus on the growth of your enterprise, rather than on repetitive process that can be externalized.
Your inventory is maybe requiring special technologies to be managed. The warehouse may require to be built specifically.
The return and after sale service handled by your supplier, which means your winning time again.
Your shareholders and clients may prefer that no process is outsourced.
The management of international orders and inherent tasks like customs clearance are handled better.
6) Why choose us?
6.1) Where are located our warehouses?
We have two warehouses of 10,000 square meters each. One is located in Haiphong, the other in Ho Chi Minh City.
In Haiphong, it is ideal for all your goods leaving or entering from the port. It can also serve as a supplying base for all your clients located in northern Vietnam.
The HCMC one is ideal for all your goods entering or leaving through the port or the airport of the city. It can also be used as a supplying warehouse for all your clients located in the south of the country.
6.2) Our technologies
6.2.1) Warehouse Management System (WMS)
It is a software that helps to manage warehouses. It can optimize the storage operations and process, to organize and control goods' flows in the warehouse. It is taking into account the inventory, the treatment, the packing and the shipping, but also the audit of the warehouse.
Our Enterprise Application Software (EAS), enables us to handle your inventory efficiently, to avoid all useless goods' movement. Hence, your stock is optimized, and all risks are heavily reduced.
6.2.2) The proof of delivery
When our messengers are accomplishing the delivery, the proof of delivery is sent to be validated, thanks to our WMS software. Our computer system is the same used by express companies, to keep you aware of your delivery in a very precise manner.
FAQ | 🏬 Warehousing services in Vietnam
What is the cost of your warehousing services?
Our warehousing services are extremely competitive. Of course, each request is unique, like the quote we will send you. It will not be accurate to provide you a price scale. Do not hesitate to reach one of our experts for a precise estimation.
What kind of goods can you store?
As described above, we can store absolutely all kinds of goods, fragile, dangerous, voluminous, or cold. Our specialists will give you further information.
How must the products be labeled? Is FNM Vietnam able to label goods in the warehouse?
Yes, we can provide labeling services inside our warehouses. You can contact us to implement this process.
Can I insure my inventory?
Our warehouses, and all goods stored inside are insured against all risks. You don't have to subscribe to further insurance policies.
Can you handle special packaging requests?
Of course, we can communicate together on your packing needs, in order to do the fulfillment for you. Hence, your goods will be ready to be sent to the customers.
What are your opening hours?
We are available every day between 8 am and 6 pm (Vietnam time).
Can I personalize my request?
As described, each service is unique, and all your shipments will be treated individually. Therefore, your services will be tailored to your needs and requirements.
DocShipper info: Did you like this article? You may also like the following:
Adivce FNM :We help you with the entire sourcing process so don't hesitate to contact us if you have any questions !
DocShipper | Your dedicated freight forwarder in Vietnam !
Due to our attractive pricing, many customers trust our services and we thanks them. Stop overpaying the services and save money with our tailored package matching will all type of shipment, from small volume to full container, let us find the best and cost-effective solution.
Communication is important, which is why we strive to discuss in the most suitable way for you!