You wish to export or import between Vietnam and a European country? The information on this subject, the regulations for example, are rather complicated to find. To make it no longer a problem for you, the Docshipper team has produced this guide. Each mode of transport is available, we will study your different criteria in order to offer you the one that is best suited to your needs and expectations. Take advantage of this guide and do not hesitate to contact us.
What is the best method to ship your goods from Vietnam to Europe ?
In this first part of our guide, we will study 2 different method of shipment : air freight and sea freight. We will compare both options in order to give you the main details and some advices about the method you should really consider.

Sea freight from Vietnam to Europe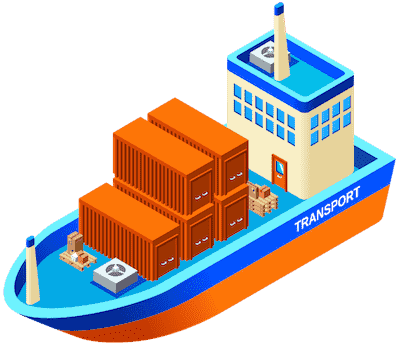 Recommendation DocShipper : Sea freight will be the best option if :
Your shipment is not below 2 CBM
You're not in a hurry, you can wait to receive your goods (30 to 40 days)
Note DocShipper : Feel free to fill our online form. Therefore, you will get a fast answer from our sea freight specialist (inquiries, advices, pricing...)
Overview - Ocean cargo from Vietnam to Europe
Worldwide, trade by sea is predominant. But what about in Europe? Bathed by the Mediterranean Sea, the Atlantic Ocean and the North Sea, the Old Continent is not to be outdone.
1.77 billion euros on the waves :
The European Commission's Directorate-General for Community Statistical Information, Eurostat recently revealed that trade by sea between the European Union (EU) and third countries amounted to €1.77 billion. This represents more than half of the EU's trade in goods.
In addition, over the last 10 years there has been an increase in the use of sea transport for the transport of goods. Indeed, in 2006, 47% of European merchandise trade with third countries chose the sea.
Rotterdam and Antwerp in the lead :
Within the European Union, Rotterdam and Antwerp are the two most active port areas. In 2014, 421.6 and 180.4 million tonnes of goods were handled in Rotterdam and Antwerp respectively.
In France, the leading port is Marseille. However, "only" 74.4 million tonnes of goods were handled in Marseille. Le Havre follows with 61.4 million tonnes.
Shipping company offering services from Vietnam to Europe ports 
Here are few examples :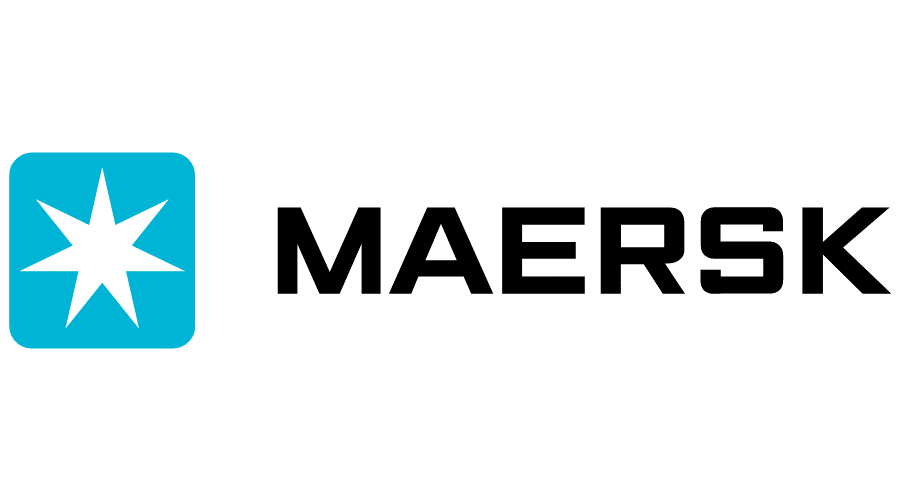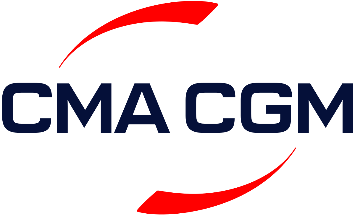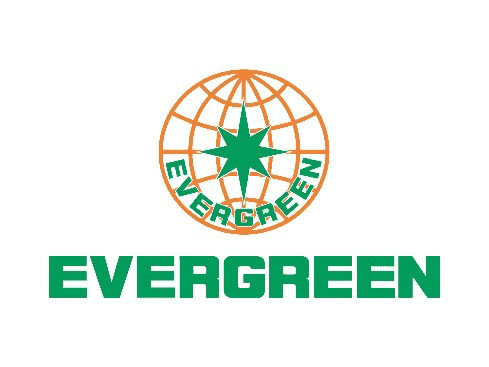 Port of Rotterdam
The Port of Rotterdam (Haven van Rotterdam in Dutch) is in 2015 the eighth largest port in the world in terms of total traffic, the eleventh largest in the world for container traffic3 and the largest European port with 12.3 million TEUs and 444 million tonnes of goods handled.
The port of Rotterdam is located on the north-western coast of Europe and is the main port of the Northern Range (the seafront stretching from the port of Le Havre to the port of Hamburg); it is a vast industrial-port area bordering the main mouth of the Rhine 1, connected to a Hinterland (a hinterland that receives and supplies the port with goods) covering the entire valley of the Rhine and its tributaries. It is 42 km long as far as the North Sea and covers 124 km21. This port has been in constant development since the eighteenth century (new basins, industrial areas, open spaces, communication routes, etc.).
Port of Antwerp
Despite being located in a country of modest size and whose political complexity has increased over the decades, Antwerp has grown into a pan-European port (191 Mt = Million tonnes. in 2013). This result is the fruit of three evolutions which have agglomerated to make the Belgian port the second largest on the continent: the medieval heritage of port know-how, the efforts of territorial adaptation since 1800 and the response to the demands of contemporary maritime markets. This evolution is all the more paradoxical in that in many respects the environment is narrow, be it geographical, political or economic. By exceeding these limits, the port of Antwerp has carved out a large format that continues to surprise.
Port of Hamburg
The port of Hamburg (Hafen Hamburg in German) is the largest commercial port in Germany and the third largest in Europe after Rotterdam (Netherlands) and Antwerp (Belgium).
Situated at the bottom of the Elbe estuary, 144 kilometres from the North Sea, north-east of the Northern Range (the North European rail network which is the main maritime interface of Europe from the North Sea to the English Channel), the port of Hamburg specialises in particular in container traffic, an area in which it is only surpassed in Europe by the port of Rotterdam.
With just over 135 million tonnes (135.3) of goods traded in 2006, the port of Hamburg experienced one of the highest growth rates in Europe (+7.6%). It thus remains in 22nd place in the world by total goods traffic. It is above all its specialisation as a major container terminal that explains this dynamism. With 8,862,000 TEUs, it is in fact the 9th container port in the world and the 2nd in Europe, still behind Rotterdam but ahead of its rival, Antwerp.
Port of Amsterdam
The port of Amsterdam (in Dutch: Haven van Amsterdam) is the largest port in the maritime area of Amsterdam. It is the second largest port in the Netherlands after the port of Rotterdam, and in Europe it ranks fourth (2010) with a tonnage of 72,699 million tonnes. The port area is not subject to tides, it is only accessible via the IJmuiden locks which protect it from the North Sea and which are located to the east of the port of IJmuiden (which is subject to tides).
In 2008, 117 cruise ships departed with a total of 226,000 passengers. In addition 998 river cruise ships with 170,000 passengers visited the port of Amsterdam. The number of sea cruises and their passengers increased significantly with 50% compared to 2007, while river cruise traffic decreased slightly. In 2008, the turnover was €125.3 million and the net result was €45 million. This is a slight decrease compared to the turnover and income in 2007.
Port of Algericas
Algeciras is the 12th most populated city in Andalusia and the 56th in Spain. A city mainly oriented towards industry, it is known for its port which, with 94.93 million tonnes of goods, is the 1st in the country and the 4th in Europe behind Rotterdam, Hamburg and Antwerp, but ahead of Marseille.
Should I ship by consolidation or full container from Vietnam to Europe ?
LCL
LCL - Less Than Container Load Grouping several shippers into one and same container is called LCL or "by consolidation". This is a way to offer you a good price although your volume is not enough for a full container (FCL).
Advantages of shipping by LCL
Operating by LCL allows you to end up with a rather moderate cost. In addition, it will make it less expensive to package and inspect shipments.
However, to benefit from these advantages, the volume of your goods must be too high for air freight but less than 13, 14 or 15 CBM (FCL volume).
Disadvantages of shipping by LCL
Packing, loading and unloading will soon become too expensive for volumes corresponding to one FCL (above 13 CBMs).
In our experience, FCL often proves to be a more viable option from Vietnam (from Asia in general).
FCL 
FCL is an ISO international standard that relates to a (full) container load (20″ feet or 40″) containing a shipment for a consignee (which is an importer). FCL sea freight is the cheapest mode of transport for imports from Vietnam.
FCL is in fact very cost-effective if it involves a very large quantity of goods (often above 15 CBM).
Advantages of FCL sea freight
Price less than one cubic metre in relation to an equivalent volume or weight of goods shipped by LCL by air or sea.
More convenient for optimizing quantity and packaging for export to maximize the use of space in a container from 20″ or 40″.
Higher level of security and less risk of damage due to less handling (loading, temporary storage, unloading) of your cargo.
Disadvantages of FCL shipping
Do not consider this option unless your volume is large enough.
But what does "large enough" mean ?
Starting at 13,14,15 to 20 CBM (it equals to 40 to 70% of a 20″ container).
How long does it take to ship from Vietnam to Europe by sea freight ?
| | | | | | | |
| --- | --- | --- | --- | --- | --- | --- |
| | Rotterdam | Antwerp | Hamburg | Amsterdam | Fremantle | Algeciras |
| Da Nang | 30 days | 29 days | 30 days | 30 days | 35 days | 35 days |
| Saigon | 28 days | 27 days | 30 days | 30 days | 33 days | 35 days |
| Ba Ngoi | 30 days | 32 days | 34 days | 34 days | 35 days | 35 days |
| Cam Pha Port | 34 days | 34 days | 33 days | 34 days |  35 days |  35 days |
Please take into consideration that the transit time only considers the freight (The pick up / delivery and any other optional operation will increase the transit time).
How much does it cost to ship a container from Vietnam to Europe?
Sea freight is simply known to be the best (cost-effective) option, especially for transfers / shipments of a certain size and regularity. As a result, importers all over Europe use it for the majority of their operations. In other words, when you look at the Vietnam / EU traffic, you quickly realize that maritime traffic concerns the majority.
Anyway if you want to send more than 1 CBM or 100 kg, air freight will not be profitable. Going by rail is far too complicated.
So the general solution applies here (Vietnam to Europe) : Sea freight is more profitable than the rest.
Special sea freight services 
Reefer container from Vietnam to Europe
A refrigerated container or reefer container,"thermally insulated"  is a container capable of maintaining a certain temperature regardless of external conditions. Its control is ensured by transmitting its parameters to the gateway. The principle of the reefer container is based on a cold production system supplied with power from the ship's reefer sockets. It is mainly used for food or chemical products.
Docshipper can advise you about the type of container you may need. If necessary, we will reserve it for you.
Roro/Bulk/OOG from Vietnam to Europe
RORO:
ROROs are vessels equipped with a mobile access ramp allowing loading/unloading of cargo by towing between the shore and the dock. They are fast and offer reduced loading/unloading times. Trucks with trailers, semi-trailers, containers (dry / reefer), exceptional loads are therefore easily unloaded.
The use of RORO vessels allows a safer, simpler and faster transport to preserve an optimal quality of goods.
BULK:
Bulk transportation, also known as bulk trucking, means the transportation of goods that are not contained in boxes, pallets or any other container.
What goods are transported in bulk?
There are a large number of goods that can be transported in bulk. These goods are mainly divided into two distinct categories: solid bulk goods (sand) and liquid bulk goods (milk).
OOG:
Out of Gauge (OOG) cargoes, as the name suggests, are going to be very special cargoes. Indeed, they will require special treatment due to different potential criteria (size for example) making loading in a basic container impossible. Special trailers will be needed here.

Air freight from Vietnam to Europe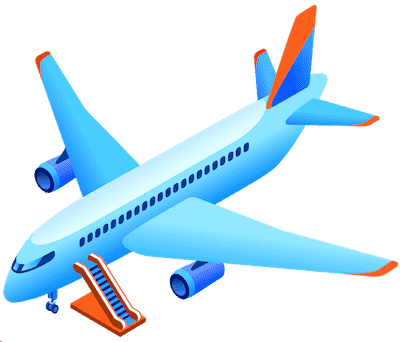 Recommendation DocShipper : Why absolutely choosing Air feright ?
Your cargo is more than 1 CBM but below 2 CBM (more cost effective option).
You really need to get your cargo very soon.
Note DocShipper : Please fill this Docshipper's online form. Why ? To receive a quotation as soon as possible, made carefully by our experts (including price, advice and anything you ask for ).
Overview – Classic vs Express air freight 
Your choice here should be subject to a question: When do I need to receive my merchandise? Then you need to know what budget you can afford.
If you are in a hurry but have the budget, choose express airfreight (between 3 and 5 days).
If you don't have the budget and you can wait a little longer, choose more classic air freight (7 to 8 days)
What is the difference between volumetric and gross weight?
* To take into account the density of your shipment, two methods are used to determine the invoiced weight of your goods.
The calculations presented here will allow you to better understand the difference between gross weight and volumetric weight. It is the greater of the two that we will use to give you an interesting quotation: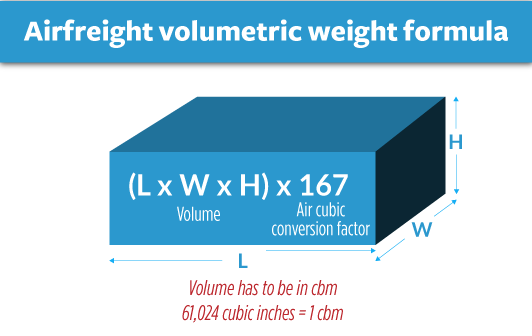 Should I choose a Classic Air freight from Vietnam to Europe ?
Which airlines company should you ship with ?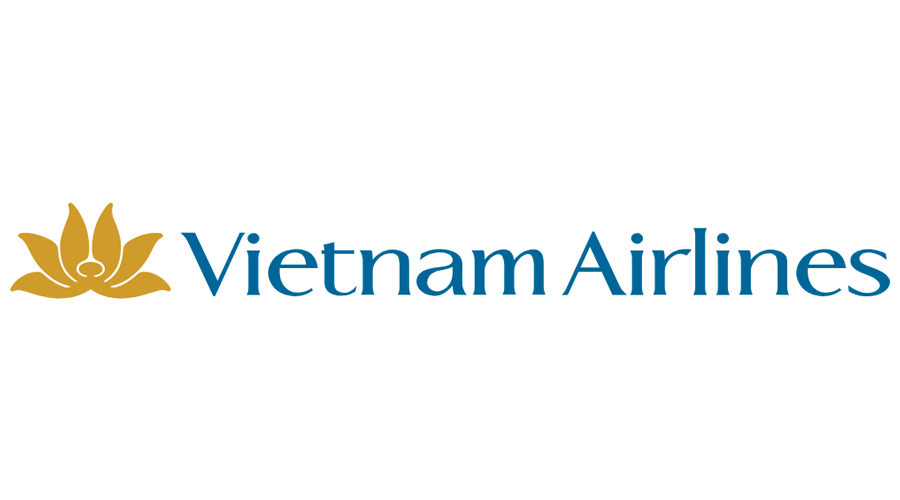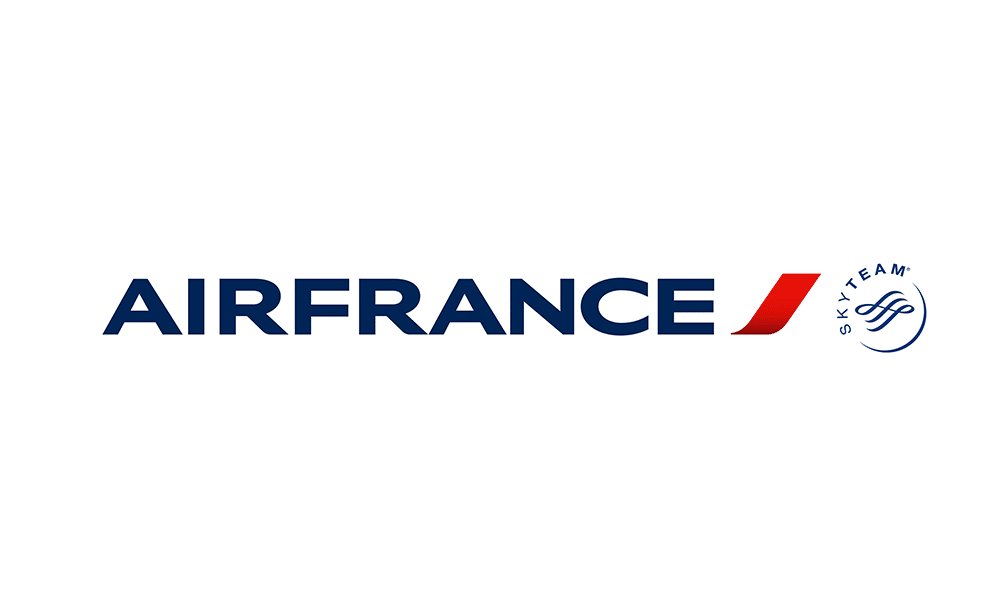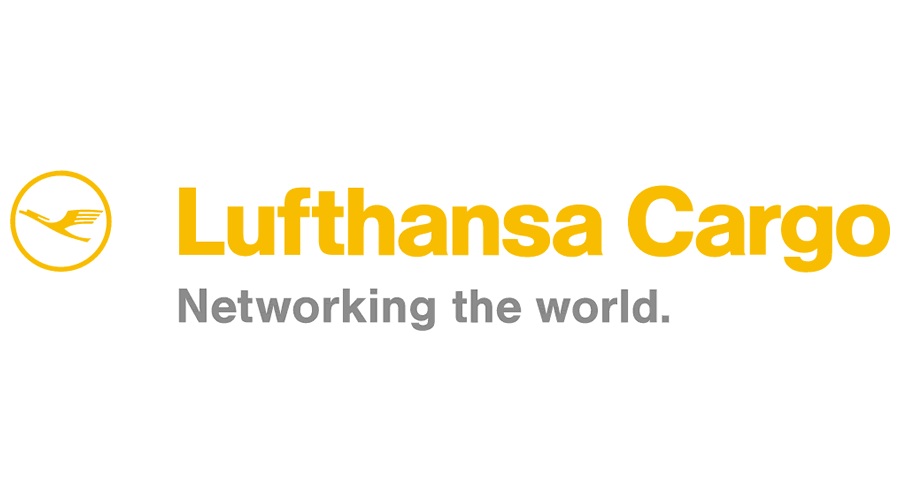 Vietnam Airlines This national airline allows flights both inside and outside Vietnam. The airports of Saigon (Tan Sơn Nhất) and Hanoi (Bài) are obviously strategic places of the country and consequently for the airline company. This is why it operates there a lot.
Air France is the French national airline, founded on October 7, 1933. Its main activities are the transport of passengers and freight as well as the maintenance and servicing of aircraft. It serves the main French airports as well as many foreign airports. Its main hub is located at Paris-Charles de Gaulle airport, with which it has a number of operating agreements. Paris-Orly airport is the company's second hub, which it uses mainly for flights to the overseas territories and for regional flights.
Lufthansa is the private German airline as well as the leading European airline in terms of number of passengers carried ahead of Ryanair and Air France-KLM.    It is the co-founder and European pillar of the Star Alliance. Lufthansa owns Lufthansa Cargo and since 2005 Swiss International Air Lines. Its subsidiary Lufthansa Regional controls Lufthansa CityLine and Air Dolomiti.
Transit time Door to Door from Vietnam to Europe by air freight ?
For a door to door operation, you should count at about 5 to 8 days.
How much does it cost to ship a parcel from Vietnam to Europe ?
Once again, we operate with the goal of offering you individualized services. Therefore, we need the many characteristics related to this operation (dimensions, weight, addresses and desired services). We will get back to you within 24 hours in order to make progress on your file.
Should I choose an Express Air freight from Vietnam to Europe ?
Express service – Perfect solution for small package
Your shipping weigh less than 90 kg ( 200 pounds) ? In this case, opt for an express service. Otherwise it won't be a cost-effective service (especially if you don't have a large budget).
How long does it take for a package to be shipped from Vietnam to Europe ? 
We have been working with these companies for years. This allows us to offer you the best services through these brands. Please note that for accelerated air freight, customs clearance is also very fast. Therefore, between 3 and 5 days will be sufficient.
How much does an Express service cost from Vietnam to Europe ?

*To quote your express shipment, a different method than gross and volumetric weight is applied. For express freight, you must consider that 1 CBM = 200 kgs.  
Please, by contacting us, you will be able to give us more specific details about this operation. Then, we will discuss about it in order to give you the best rate.
Docshipper Note: Please, take a look to Our dedicated article about express air freight. This is really detailing the subject so it is a way for you to godeeper.
Major airports to ship in Europe
London-Heathrow Airport
London Heathrow International Airport is an airport located in the western suburbs of London in the United Kingdom.
It is the fourth largest airport in the world in terms of total passengers and the second largest in terms of international passengers behind Dubai (provisional figures 2014). It is also Europe's leading airport in terms of passenger numbers. In terms of the number of movements, the airport ranks only 13th in the world with 476 197 take-offs and landings in 20111 , but it is first in Europe ahead of Paris-Charles de Gaulle.
It is one of London's six international airports and is owned by BAA Limited. London Heathrow Airport is the main connecting hub for several British airlines, British Airways, bmi and Virgin Atlantic.
Paris-Charles-de-Gaulle Airport
Paris-Charles-de-Gaulle airport, commonly known as "Roissy-Charles-de-Gaulle airport" or "Roissy airport", is an international airport located at Roissy-en-France, 23 km north-east of Paris. It is the largest airport in France in terms of importance, the second largest airport hub in Europe (after London-Heathrow airport in the United Kingdom) and the tenth largest airport in the world in 2018 for passenger traffic with 72,2 million passengers.
Amsterdam-Schiphol Airport
Amsterdam-Schiphol Airport, or simply Schiphol, is the main international airport in the Netherlands and one of the busiest airports in Europe. It is located 17.5 km southwest of the centre of Amsterdam, in the eastern part of the municipality of Haarlemmermeer.
With 71,053,157 passengers in 2018, it is the third busiest airport on the continent after Heathrow and Charles de Gaulle (CDG). In 2008, it also ranked third for freight traffic with 1,559,000 tonnes behind CDG and Frankfurt am Main. Schiphol is the main base for KLM and its subsidiaries KLM Cityhopper, Martinair and Transavia. The airport also serves as a hub for EasyJet, TUI, Corendon Dutch Airlines and Vueling, as well as Delta Air Lines for European flights.
Airport Frankfurt/Rhine /Main
Frankfurt am Main Airport, located in Frankfurt am Main, is Germany's main airport. It is also Europe's third largest airport serving the largest number of international destinations behind London-Heathrow and Paris-Charles de Gaulle airport. It is managed by Fraport AG, which gave it its nickname,
Door-to-door transfer from Vietnam to Europe
Door-to-door method overview
Whether you want to send a small parcel containing forgotten items or a gift to a friend living in another country, order a delivery of a certain product in an online shop or abroad, arrange transport of a car and much more, the door-to-door delivery service organized with Docshipper is the best solution. All you have to do is contact us.
Then we take care of the rest; from the entire organisation of the door-to-door collection from the given address, sorting and grouping the shipments in their hubs, transport from location A to location B and then door-to-door delivery to the chosen location.
Besides, Kindly note that we are absolutely responsible of every phase of the transfer.
How door-to-door services are helpful?
The smooth running of the transport operation is guaranteed by Docshipper and its collaborators. They are in contact for the different operations (in this case those of the EU will speak with those of Vietnam). This will avoid certain errors due to a lack of communication (delays, abnormal additional costs). So, every step of the process will be handled the good way (customs clearance for example).
Docshipper Note: You can check our special page on door-to-door, or reach one of our Docshipper experts to get deeper on the topic.

Customs clearance in Europe / European Union for goods imported from Vietnam 
How much will I pay ? 
The HS code is an international recognition code. It is mainly used in the establishment of the national customs nomenclature and the collection of world trade statistics. The HS code is composed of 6 digits and reflects the nature of the goods. Some countries require it to be mentioned for the shipment of goods.
It will allow you to know precisely the amounts of customs clearance and freight.
Here is the composition of an HS Code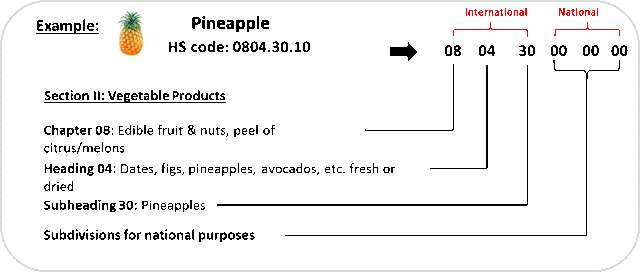 How to find the right HS Code for my goods ?
There are few options available to you. Your supplier must be able to provide you with this size accuracy. However, if he does not have the necessary knowledge, you have other options.
Going to this site is, in my opinion, a very good solution : HTS - HS code finder
It's very simple to use ! Simply enter your keyword in the search bar and get results. Let's show you " pineapple " example.
Calculate applicable tariff with the HS code
You found your HS Code ? It's now time to check how many taxes you will have to pay on your shipment. You just need to do the following steps :
Go on the Free Trade Agreement Portal
Go on this link (Free Trade Agreement Portal European Union), you should reach a page who looks like this :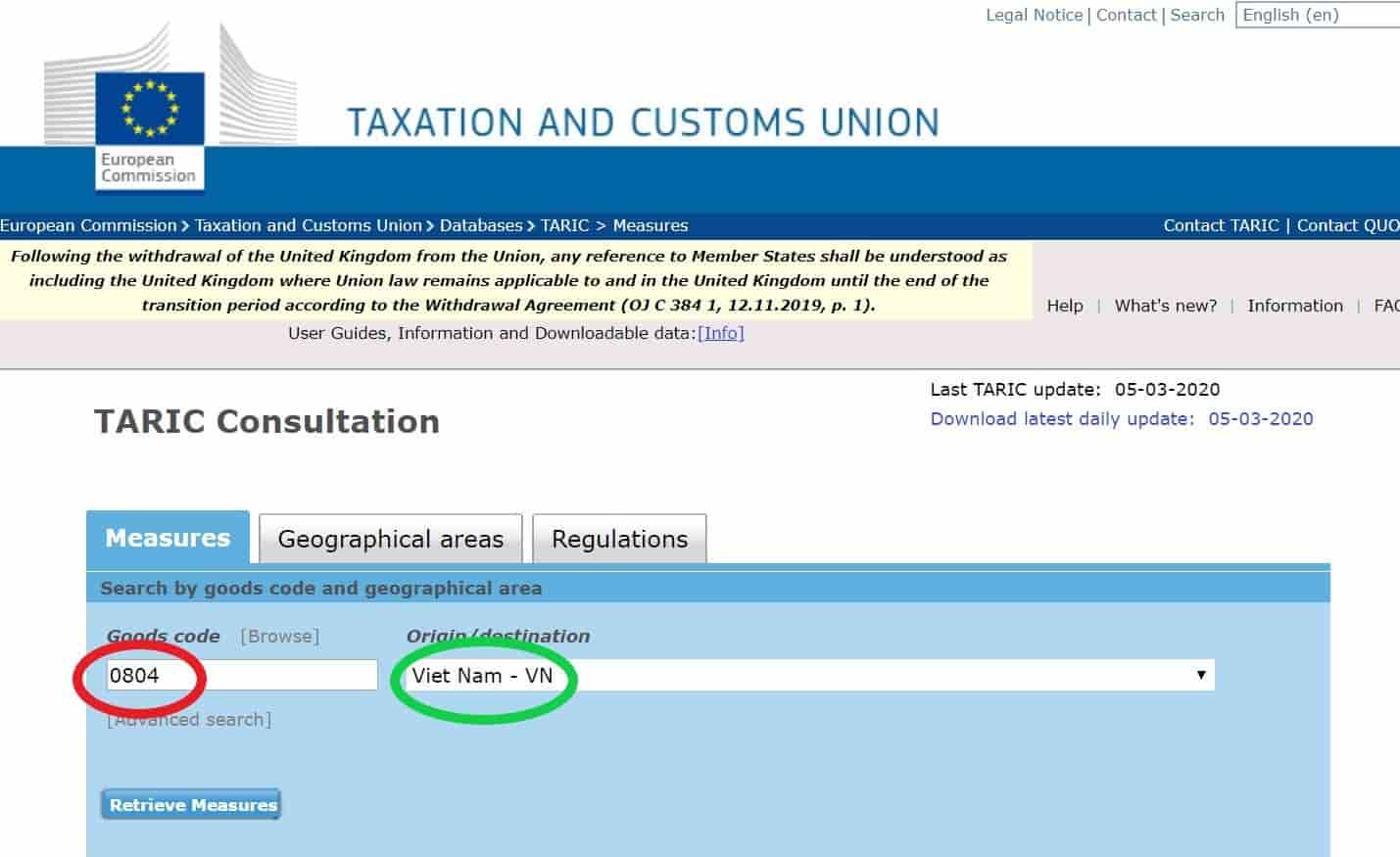 As our example on the screenshot, fill 2 requested informations :
Your HS Code
Origin of goods
Check the duties and taxes applied on your product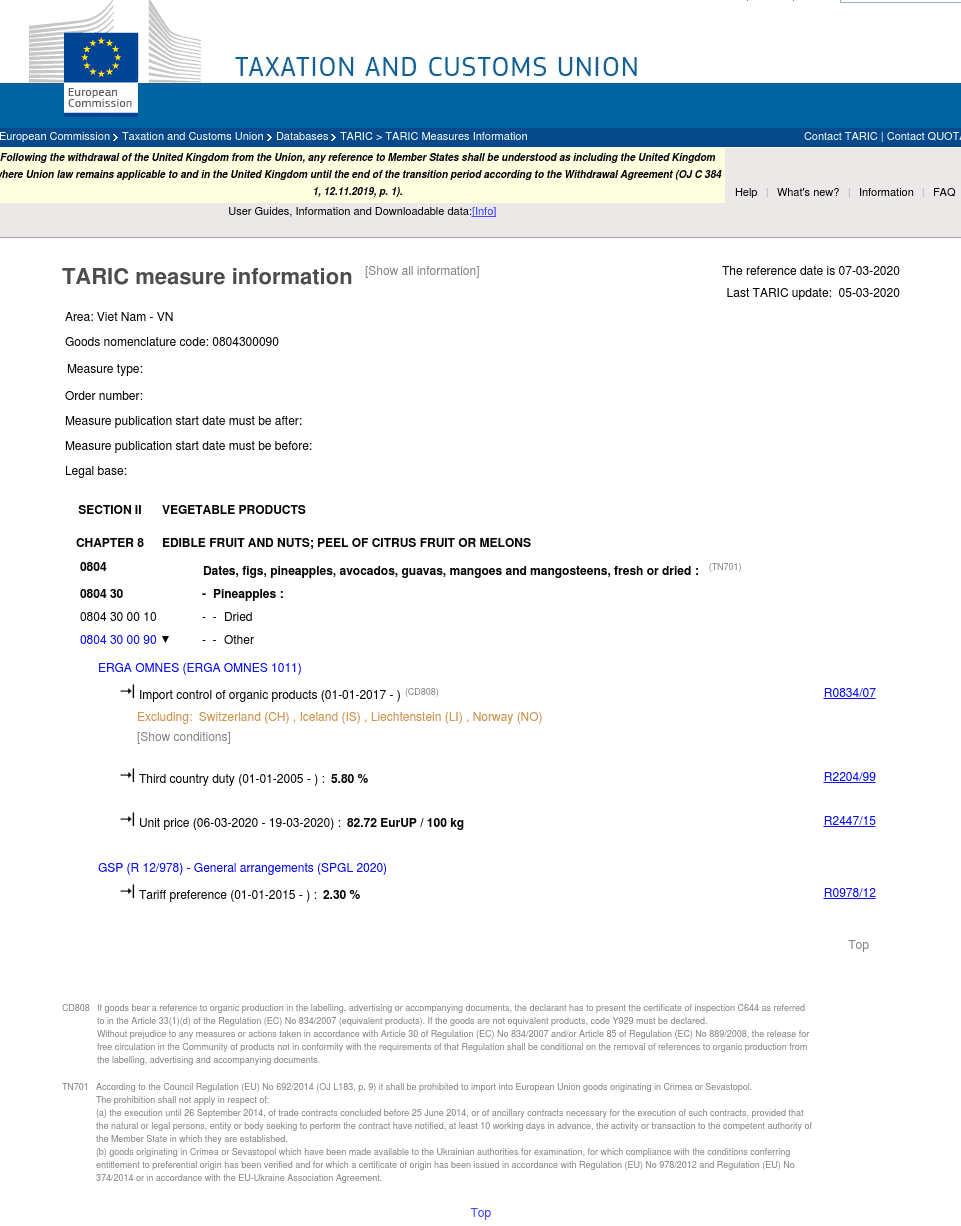 DocShipper advice : You need more information about the tariff classification ? You should click here. Be aware of these information will avoid some potential issues.
Different taxes existing for your goods 
The VAT
The tax must be paid by the person designated as the actual recipient of the goods on the import declaration. This tax is jointly and severally due by the customs declarant acting under an indirect representation mandate, as defined by the Customs Code of the Union (CDU). Taxable persons must complete and submit to customs the Single Administrative Document
Suspensive arrangements and free zones
Imported goods may be placed under one of the customs procedures listed below. VAT will not be charged until the goods are withdrawn for consumption.
Goods placed in temporary storage;
Goods under inward processing arrangements
Transit procedures.
Free zones in which goods are not subject to VAT
Tax base
The taxable amount on which VAT must be calculated when goods are imported from outside the EU is the value defined as the customs value of the goods.
If they are not already included in the customs value:
It includes :
Taxes, duties, levies and other charges that are due outside the EU country of import, as well as those due by reason of the import, with the exception of VAT to be levied;
Ancillary costs, such as commission, packaging, transport and insurance costs incurred up to the first place of destination of the goods in the EU country of import;
Incidental costs arising from transport to another place of destination within the EU, if the latter place is known at the time of the chargeable event.
Minimum VAT rates
The standard rate cannot be less than 15% ;
EU countries may also apply one or two reduced rates, which must not be less than 5% and which will only be applied to very specific supplies of goods. The directive allows the application of a reduced rate of at least 12%.
The excise tax in Europe / European Union
Excise duty is a tax which relates to a quantity and not to a value: thus the tax on alcohol consists of levying n euros per hectolitre of alcohol sold. European Union excise rules cover the following products: alcohol, alcoholic beverages, energy products, electricity and tobacco products. Reduced rates and exemptions apply in cases such as duty-free purchases.
How to get a taxes exemption? 
Certain goods may be exempt from VAT when they are imported.
These include in particular :
The re-importation, by the person who exported them, of goods in the state in which they were exported and which benefit from exemption from customs duties, or which would benefit from such exemption if they were subject to customs duties, is exempt from VAT.
Fishery products imported by sea fishing enterprises.
Certain goods benefiting from an exemption under the domestic regime may also benefit from an exemption from import VAT. These include in particular :Human organs, blood and milk; Currency, banknotes and coins which are legal means of payment.
Gold, in all its forms, imported by the issuing institutes.
Imports of goods dispatched or transported to a place situated within the territory of another Member State of the European Union (EU) and which are the subject of a supply exempted by the importer under Article I of Article 262 ter of the General Tax Code are exempt from VAT.
GSP 
The Generalized System of Preferences (GSP) "without reciprocity or discrimination, in favour of developing countries, including special measures in favour of the least developed countries, shall be  to promote the development of the least developed countries:
To increase their export earnings;
Promote their industrialization; and
Accelerate the pace of their economic growth
Then, you can guess that a lot of Vietnamese products are included.
Products judged too competitive (textile for example) can't beneficiate from GSP.
Providing a Certificate of Origin of your goods to the European Union Customs will make you able to benefit of GSP.
Does Docshipper charge duty ?
For the rest, our customs commissioner will definitely not be charged to you. We will revert to you with documents produced by European Customs in order to prove it to you.
Customs clearance process in Europe
EORI number
The EORI (Economic Operator Registration and Identification) number is a unique identification number for customs purposes, which is mandatory in the EU since 1 January 2017. It is required for import and export formalities (outside the European Union). It is mainly used in tele-procedures (electronic declarations) related to the customs clearance of goods1 . Member States have set a mechanism to secure trade entering and leaving the European Union.
A Community database has been set up, making it possible to identify, by means of a unique number, each economic operator having relations with the customs administrations of the European Union (EU), or carrying out activities covered by customs legislation.
Economic operators then use this number in all communications with all customs authorities in the EU that require a European identifier, such as customs declarations.
Entry summary declaration
The entry summary declaration or "advance entry summary declaration" is one of the obligations incumbent on the carrier or his representative, the importer or his representative, or any person who is in a position to present the goods or have them presented and whose purpose is to control the type of goods that are to enter the Community customs territory.
A security check is carried out on the data sent in order to determine whether there is a risk in receiving these goods on European soil. This check is carried out according to the goods transported but also according to the consignors, consignees, etc. Following this risk check, a (exceptional) not to load or arrival checks may follow.
Customs procedures
Once the goods are received by customs, they are temporarily stored (for a maximum of 90 days) before being assigned :
For release for free circulation
This means that the conditions for importing them into the European Union are fully met.
Special regime
For Vietnam-Europe operations, we talk about external transit. The term "external transit" means that non-Community goods can move freely throughout the Union. The goods will not be liable to import duties or other charges (import related charges). Customs clearance formalities are therefore delegated to the customs office of destination.
Customs declaration - SAD (Single Administrative Document)
The Single Administrative Document is primarily used by the customs authorities. It enables them to carry out the customs clearance procedure. For example, the value of the exported/imported goods, their quantities, detailed contents and other details such as delivery terms and transport costs are indicated. Details on the identity of the sender and receiver of the goods are also included.
It will be transmitted to the customs authorities by importer via the Internet or directly at the customs premises. The SAD aims to harmonise data, to bring together all relevant data in one document. It consists of 8 sheets. It is also a means of being transparent with regard to national administrative procedures.
Value for duty
The customs value is the value that will be used, in import-export operations, to calculate the duties and taxes related to the transaction (customs duties, VAT, dock dues, etc.).
This value does not always correspond to the price in the sales contract and may be subject to specific adjustments.
Customs contact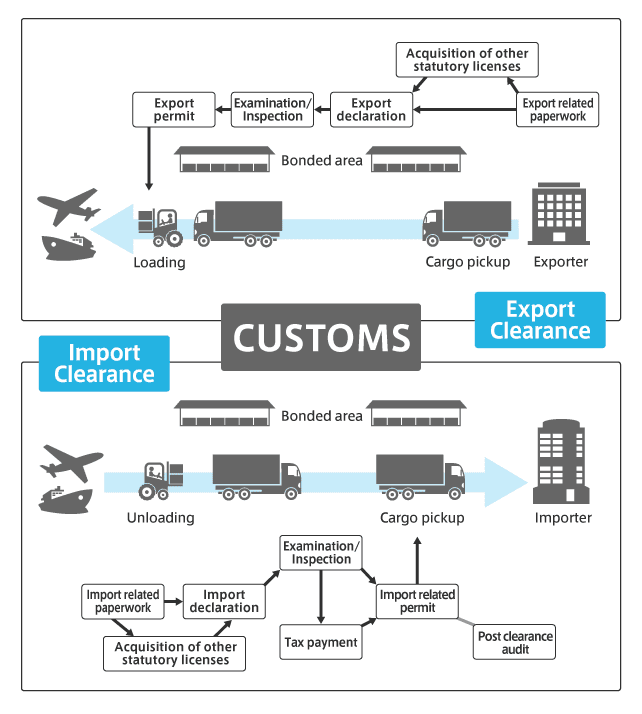 What are the Licenses required (import & export)?
Import license 
Agricultural Products
When importing agricultural products, some are subject to an import certificate. It will be used by the EU authorities. They will therefore be able to analyse flows and manage tariff quotas.
Contact the authorities issuing this certificate with a guarantee (the amount varies and can be returned on presentation of the import papers).
Steel products
All these imports are supervised and monitored by the EU a surveillance document is mandatory to be provided when the weight of the imports will be above 2500 kg.
Products originating in Norway, Iceland and Liechtenstein are exempt from the presentation of this document.
Necessary documents 
Bill of Lading can be compared to a passport / boarding pass. It will be sea or air, depending on your type of cargo of course.
It is a very important document for any international transfer as it will prove its legality and therefore that everything is in order (being issued only after payment has been made).
The following pictures are detailing what information are provided on a Bill of Lading: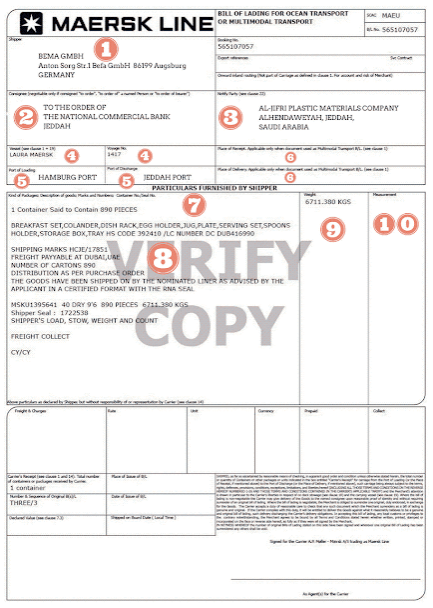 1 = Shipper
2 = Consignee
3 = Notify party
4 = Vessel No.
5 = Port of loading / discharge
6 = Place of receipt / delivery
7 = Container No.
8 = Goods description
9 = Net weight
10 = Dimensions / volume
The original invoice
The European Union Customs will see this like a confirmation that the goods received are the same in the declaration.
The packing list
It is made up of your belongings that you are going to have transported. To this list will be attached the MSDS data sheet and the international code in the case of importing certain products (hazardous or chemical products) within the EU.
Certificate of Origin
If you want to link your import to the GSP regime, you will need this certificate. It will attest to the authenticity (Made in Vietnam) of the goods in question. After obtaining the signature of the manufacturer(s), the government agency on site will take care of the rest.
Here is what it looks like (for China here):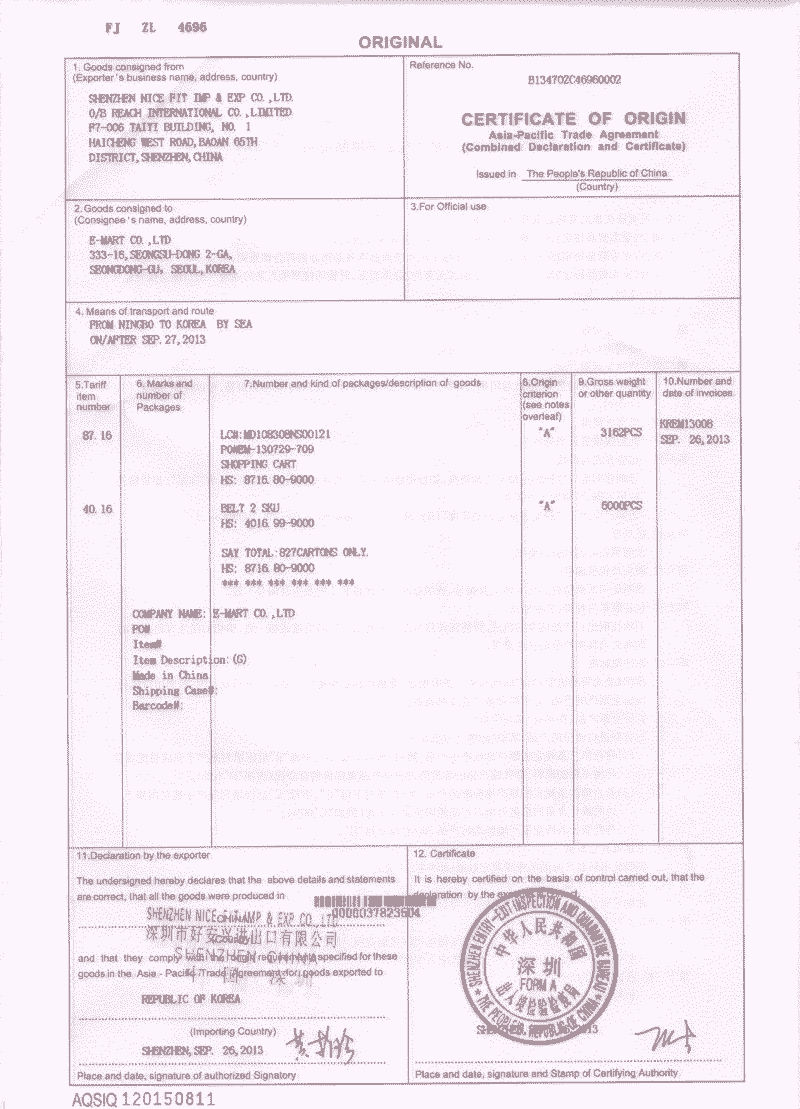 There might be some difficulties for you to handle it entirely. If this is a case, just send us an email or call us !
Prohibited & restricted items 
Here is a list of the some prohibited items:
Counterfeits;
paedophile products: i.e. "objects of any kind containing images or representations of minors of a pornographic nature";
asbestos or products containing it, with the exception of those referred to in Article 7 (Decree of 24 December 1996);
products containing certain dangerous substances (e.g. lead salts, nickel);
plants, plant products and other products (bark, seeds, soil and growing media) whose introduction is prohibited in all Member States under Annex III of the Order of 24 May 2006;
animal foodstuffs or foodstuffs of animal origin that are subject to prohibitions under the national or Community health regulations in force;
polycarbonate baby bottles for infants produced from 2,2-bis (4-hydroxyphenyl) propane, also known as bisphenol A ;
cat and dog skins or fur and any products containing them.
However, as far as foodstuffs are concerned, this list is not exhaustive and may be updated according to crisis situations that may arise.
Trade agreement 
EVFTA and EVIPA are ambitious trade agreements between the EU and a developing country, based on legal regulations, the diplomat said. Under EVFTA, 99% of tariff lines would be removed and many other non-tariff barriers would be reduced on both sides, while EVIPA helps to protect and strengthen European investment in Vietnam, making this South East Asian country a trade and investment hub for EU companies operating in the region.
Currently, the European Union (EU) markets - members of the EU-Vietnam Free Trade Agreement (EVFTA) - are Vietnam's main import-export markets in Europe.
Free Trade Agreement opens new era of bilateral cooperation
VFTA could help strengthen ties between Poland and Vietnam
According to the latest figures from the General Customs Department, at the end of 2019, the import-export turnover between Vietnam and the members of the EU (28 countries) was USD 56.39 billion, or nearly 11% of the country's import-export value. In particular, Vietnamese exports to the EU reached USD 41.48 billion, down 1% from 2018 but still representing 15.7% of national exports. While imports amounted to USD 14.91 billion, up 7.4%, representing 5.9% of the country's figure. Thus, Vietnam has a remarkable trade surplus of USD 26.57 billion with the EU.
Data from the General Customs Department show that the markets for Vietnam's main export products include EU member countries. The largest export product group is "phones and components", with a turnover of USD 12.36 billion, down 7.1% from 2018, but the EU still accounts for 24% of this figure. The EU is also one of the largest outlets for computers, electronic products and components.
In addition, a number of Vietnam's flagship export products posted billions of dollars in export turnover to the EU last year, such as textiles-clothing, footwear, agricultural products, machine tools and spare parts . Vietnam also imports a variety of products from EU member countries. In 2019, it imported computers, electronics and components from Iceland worth almost USD 2.3 billion. In addition, machine tools and spare parts, pharmaceuticals, consumer goods, cars, etc. were also imported into Vietnam.
Trade relationship 
Currently, among EU members, Germany is Vietnam's largest trading partner.
In 2019, in more than 200 countries and territories with trade relations with Vietnam, 8 of them achieved an import-export turnover of more than USD 10 billion, including Germany. Specifically, in 2019, bilateral trade reached more than USD 10.25 billion, of which USD 6.555 billion was Vietnamese exports and USD 3.697 billion was imports.
Last year, Vietnam exported two groups of goods to Germany with a turnover of more than USD 1 billion, namely telephones and components with USD 1.657 billion; and footwear with more than USD 1 billion.
Many other products also recorded high export turnover in this market such as textile-clothing, USD 808 million, computers, electronic products and components, USD 522.6 million, ...
For imports, only one product has a turnover of more than USD 1 billion, namely machine tools and spare parts (more than USD 1.74 billion). In addition to Germany, Vietnam also has many other "over USD 1 billion" partners in the EU, such as France, the Netherlands, Spain, Belgium and Italy.
Additional services 
Our warehousing services 
At Docshipper our mindset guides us to offer the best solutions to our customers and thus facilitate their operations. Our warehouses close to the ports: HCMC (Saigon), Haiphong and Quy Nhon allow us to store your goods as long as you wish before shipping them to Europe. Before that, they will be secured by our cameras and surveillance staff.
Once again the free-stress aspect highly appreciated by our customers!
Docshipper advice : You need more information about this service ? Check our dedicated page on the following link : warehousig services
Storage service in Europe
We have always maintained a good relationship with our local network in Europe (Spain, France, Germany, Portugal ...). This ensure a safety, which comes with trust and a competitive price.
Our packing/unpacking services 
Overview 
To guarantee you a transport without concern passes by a packing service.
Please note:
A package is good, the best package (ours) is better!
Our experience has enabled us to establish packaging conditions adapted to your needs and budget. We will then provide you with the most suitable alternative.
Packing material 
Carton box
We guarantee you the best, adapted to your goods and requirements. This includes not only the best know-how but also the best cardboard boxes. In order to guarantee an optimal protection they will be thick and not folded.
Palletization 
It's used to facilitate the process. Transporting your goods inside the container can be complicated. In our warehouses, we manufacture all types of pallets to match your shipments.
Wooden boxes 
Wooden transport crates are one of the safest means of transporting goods. Their sturdy structure protects their contents and their format makes them very easy to handle for forklift trucks or pallet trucks. Wooden crates are strong, durable, reusable, and offer an environmentally friendly alternative for packaging and shipping.
Others: bubble wrap, tape, wrapping paper… 
It is ideal for fragile goods. Docshipper's aim is to make the goods in such a (logical) condition. In this way we can protect the goods from the transport material (e.g. wood). Without using bubble wrap or others, your goods can be damaged.
Why packing is important for the insurance ? 
Of course you'd be right to worry about your property. Nevertheless, in this article I try to prove to you that we do EVERYTHING to make sure there is no problem. Our experience, our acquired skills make us very good in this field.
From our experience, we can tell for sure that some insurance are very insistant on some details such as packing by professionel, in order to make you pay. We will act in a professional way, which guarantees you a refund if anything happens.
Freight insurance 
How much does a freight insurance cost ?
Be aware that the price of your insurance will depend on the value of your goods and also on the value of your freight. The cost of insurance is calculated on the basis of a percentage applied to the total price of your freight and your goods. This price is provided by the insurance company.
The method of calculation is as follows:
(Freight value + commodity value) x 1-3% = cost of your insurance.
The percentage will depend on the type of your cargo.
Supplier management in Vietnam 
Control quality in Vietnam 
Again in a free-stress perspective for our friendly customers, we will contact your supplier beforehand. We will get to know more specifically the characteristics of the product and go through them with a fine-tooth comb (especially the condition + packaging). Under our supervision, your products will not leave without adequate packaging.
By having contacted Docshipper, the operation will run smoothly from start to finish (regardless of the incoterm). Our staff is fluent in Vietnamese / English / French in order, among other things, to verify the dimensions as well as the HS code of your goods.
3PL Services in Vietnam 
Order fulfillment/Packing & labelling in Vietnam 
The supply chain is complexe, especially if you are not familiar with it. We will be your right-hand man in Vietnam, taking care of all services (packaging, customer relations, inventory, labelling, fulfilment). These will be our concerns, not yours.
Last mile delivery 
The relations with whom we have been working for years allow us to offer and guarantee a delivery in any country (Vietnam or EU in this case) accompanied by a competitive price and an irreproachable service.
Shipping personal effects from Vietnam 
Excess baggage 
Coming back from a trip busier than you can often happens. In this case, the airlines are not very lenient.
Is there a solution? Yes, and it's called Docshipper. Our express delivery guarantees you the best service. In 3 to 5 days, the excess goods will be delivered directly to your home.
Docshipper note: Take a look at our express freight page. Or you can also contact one of our experts directly.
Moving service from Vietnam to Europe
Moving, especially when it's your first move, can be a worry. You need to find out about many things at the same time (packing, customs...). Let us relieve you of this stress. Your concerns will become ours! Please take a look on our dedicated page : Moving services.
Free regulation advisor
Docshipper's been operating for 10 years now. What do all those years mean? A lot of experience, especially in transport between Vietnam and Europe. This experience is at your disposal.
Take advantage of it and let us answer all your questions.
What are you waiting for? Please contact us.
More than 10 years of expertise in Asia, enables us to deliver tailor-made freight solutions at hyper competitive prices. Do not hesitate to contact our dedicated staff for more information about your transfer, we're always happy to serve and spread knowledge! Contact us

FAQ - Shipping from Vietnam to Europe
Can Docshipper handle my shipment from Vietnam to Europe ?
Thanks to our department specializing in personal belongings, we can easily manage your move in the most professional and efficient way possible. We also offer an ecological package. This means that you will be responsible for packing and will therefore save 30-50% of the costs. Also note that our premium offer is more comprehensive: we cover ALL your needs from the logistics process.
How DocShipper can handle my shipment from Vietnam to Europe?
Door to Door is very popular with our customers. Why is that? Because it's an all-inclusive package, which means you don't have to worry about anything. What's more, benefit from our expertise if you have the slightest question.
What is the cheapest way to ship goods from Vietnam to Europe?
I agree, this may sound complicated. But it is VERY simple. This is all about the volume. Your shipment is below 1 CBM: we will advise express shipping (via DHL for example). Your volume is below 3 CBM but above 1: use conventional air freight. Finally, if the volume of your goods exceeds 3 CBM we will refer you to a sea freight charge (LCL or FCL depending on the volume).
What should I choose : sea freight or air freight?
Again, it's on a case-by-case basis. So it depends on what you want and need. To sum up, count about 40 days for a sea service against a few days for air service. If your volume is not too large, take note of the restrictions specific to air freight (batteries for example).
Incoterms : CIF, FOB or EXW ?
The first thing to know is that whatever incoterm you choose, Docshipper can handle it. It will determine the services you need but more importantly the responsibility of the buyer (you) and the seller (your potential supplier). Buying under CIF means that the price includes international freight and insurance but excludes charges at destination (customs clearance, delivery ...). Then, with an incoterm EXW you will have to manage your goods from the factory in question. Finally, if you proceed under a FOB incoterm, your container will be loaded on the ship (all local process handled by the supplier).
What information do we need to provide you a quote?
Adapting our services to our customers as much as possible is the image we wanted to give to Docshipper. Dimensions, departure and arrival addresses (and their distances from the port or airport), net and volumetric weight are the main criteria to be taken into account in order to give you an efficient and consistent quotation.
Can Docshipper consolidate goods from different suppliers?
Docshipper tries to meet all potential customer requests. Thus, our consolidation service will be carried out in our warehouses once the goods are received. For more information, please contact our staff who will answer any questions you may have.
Can I change the delivery address after the freight process has begun?
Obviously it is possible for you to do this. Error is human! However, remember to notify us so that we can take the necessary measures.
DocShipper | Your dedicated freight forwarder in Vietnam !
Due to our attractive pricing, many customers trust our services and we thanks them. Stop overpaying the services and save money with our tailored package matching will all type of shipment, from small volume to full container, let us find the best and cost-effective solution.
Communication is important, which is why we strive to discuss in the most suitable way for you!