Are you located in South East Asia (SEA) or China? Are you searching to transfer your goods from your supplier's location in Vietnam? Are you in Vietnam and would you like to have your goods delivered from China or South East Asia? This page will provide you valuable information. We're detailing here all the ground freight possibilities in Vietnam, and also between Vietnam and other countries.
1) What are the different ground freight methods available in Vietnam?
1.1) First method, sharing the truck with other shipments (LTL)
Less Than Truck Load (LTL) is the ground equivalent of Full Container Load (FCL). This truck loading method is used when your goods are a lot smaller than the total volume available in the truck. Hence, your shipment will be transported with other shipments belonging to several different consignees. This will help to optimize the distance travelled and the costs, because each proprietor is only charged for the space he is using (in CBM).
You will appreciate this method if your goods are only measuring a few CBMs, because it will be less expensive than FTL. On the other hand, the total delivery time is greater, because other persons who need to transport only a few CBMs must be found.
1.2) Second method, booking an entire truck or container (FTL)
Contrariwise to LTL, Full Truck Loaded (FTL) is used if your shipment is voluminous enough to fulfil the totality or almost all the space available in the truck. It is the ground equivalent of FCL. This method can also be planned if you wish that the truck must transfer your shipment only. There, prices are paid for the whole journey, instead of per CBMs.
In the end, this method is more expensive because all the available space in the truck is used for yourself. But if we're relating it per CBM, you will pay a lower CBM price than the one proposed in LTL. Also, the transfer delay is shorter than LTL, because the first truck available is immediately loaded and used for your freight.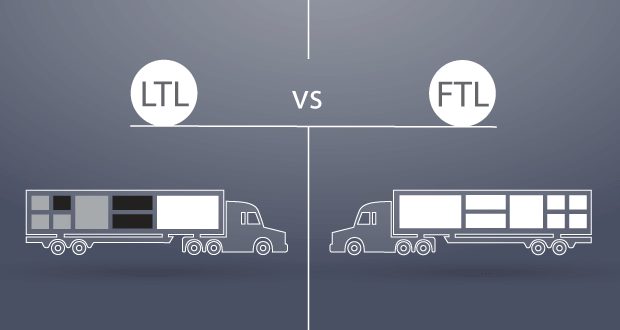 Here is illustrated the difference between LTL and FTL
2) Our other road freight services
2.1) Van transport, for a fast delivery
We can also carry your shipment by van which is very adapted for small shipments. We're functioning as same as trucks, with FTL and LTL methods. A transfer with van will be slightly faster than with truck, because of the less time necessary to plan it. This service can also be used for relatively big shipments requiring a fast delivery.
2.2) Road freight combined with air, ocean or rail freight (intermodal transport)
Road freight is often the first step of a longer transfer process. Therefore, if you planned a sea, air or rail freight, we can deliver your goods by truck onto the wharf or the airport of departure. It works also in the other way, we can handle your goods when they arrive at the port or the airport and deliver them to your location in Vietnam.
FNM Note: We're also providing multimodal freight solutions, do not hesitate to visit our dedicated article, or to contact us.
2.3) Transfer by refrigerated truck or reefer container
If your goods are requiring a constantly controlled environment, be aware that we can transport them in our refrigerated trucks. Also, we can store your shipment in a reefer container, then transport them on a truck. Your goods will be conserved at a controlled temperature and humidity rate.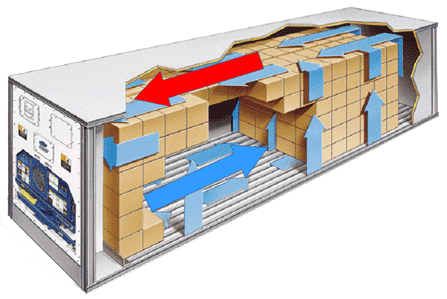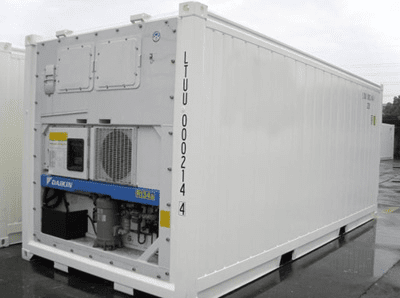 Here is how a reefer container is working and what it looks like
2.4) exceptional convoy and out of gauge transfer
We're also fully skilled to handle all OOG items. For machineries, or any other type of heavy item, our heavy goods vehicles can handle these types of transfer. We're also proficient to manage exceptional convoy. You can contact us for these services.
2.5) Door to door services in Vietnam or cross border
Inside Vietnam, or from Vietnam to SEA and China, we can implement door-to-door services for road freights. You will only have to handle the reception of your goods while we manage every step between your supplier and you.
3) Road freight between Vietnam and Southeast Asia
3.1) What are the main roads on the Indochinese peninsula?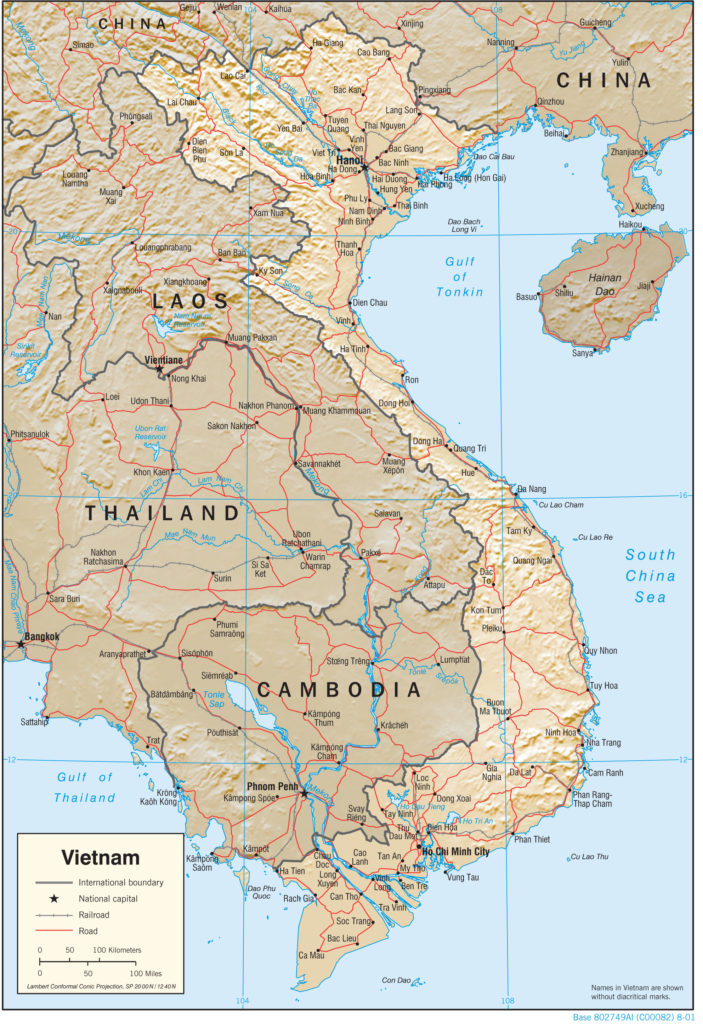 This map is showing the main roads on the Indochinese peninsula. You will notice that it's easy to join Vietnam's neighbouring countries by road. It also explains why truck freight isn't exceeding 4 days between Vietnam and all the SEA countries, no matter where the destination is.
Roads are generally in good conditions in all the peninsula. Roads are also well designed to drive between countries, as you can see on the map. The only main problem is the very dense circulation, that can cause massive traffic jams in certain areas.
3.2) Crossborder trucking between Vietnam and Malaysia
For all transfer between Vietnam and the Malay peninsula, we can deliver your goods within 3 days. Depending if your goods are leaving from northern or southern Vietnam, they will cross Laos or Cambodia, then Thailand, before crossing the Malaysian borders.
For example, a journey between HCMC and Kuala Lumpur will take 3 days by road freight in door-to-door.
3.3) Crossborder trucking between Vietnam and Singapore
In departure from Vietnam to Singapore, your goods will be delivered within 4 days by truck freight. As with Malaysia, your goods will cross Cambodia or Laos depending on where your supplier is located, then Thailand and Malaysia.
For example, a Hanoi-Singapore journey will be made within 4 days by trucks in Door-to-door.
3.4) Crossborder trucking between Vietnam and Laos
2 days at most are necessary to deliver goods from Vietnam to Laos. If your supplier is located on the extreme southern part of Vietnam, your goods may also travel through Cambodia.
For instance, one day is necessary to transfer your goods from HCMC to Vientiane by door-to-door truck freight.
3.5) Crossborder trucking between Vietnam and Cambodia
From Vietnam to Cambodia, 2 days are necessary to transport your goods. If your shipment is departing from northern Vietnam, it may transit through Laos before entering the territory of Cambodia.
For instance, a truck freight between Hanoi and Phnom Penh will last two days by road freight on Door-to-door.
3.6) Crossborder truck freight between Vietnam and Myanmar
To Myanmar, 3 days at the most are necessary to transfer your cargo from Vietnam. Depending if your goods will leave from the northern or the southern part of the country, it will cross Laos or Cambodia, and Thailand before arriving to the Burmese territory.
For instance, a journey between HCMC and Mandalay will take 2 days of trucking on door to door.
4) Crossborder trucking between Vietnam and China
Road freight between Vietnam and South China is a very common and convenient way to transfer goods. Two border crossings are existing between the two countries:
The first is located between the Chinese city of Pingxiang, and the Vietnamese city of Đồng Đăng, and enables to link the capital city of Hanoi, with the Chinese city of Nanning

The second is situated between the cities of Hekou (China) and Lao Cai (Vietnam), in order to link Hanoi to Kunming
By roads 24 hours at the most are necessary to link Hanoi to these cities on Door-to-door. The journey will last the same duration in order to go to Guangzhou or Shenzhen, departing from northern Vietnam.
5) How expensive a road freight is from or to Vietnam?
Because a road freight depends on various parameters, like the cities of departure and destination, the variations of the CBM prices, and the type of products transported… we can't provide you a representative approximation of the price of your freight. As we're treating every demand on case by case, we will provide you a tailored price. Ask us a quote demand, so we will provide you the most recent market prices.
For all road transport needs from Vietnam, or from/to Vietnam, don't hesitate to ask our services. We will send you a detailed answer within 24 hours after your demand.
DocShipper - Your dedicated freight forwarder in Vietnam !
Due to our attractive pricing, many customers trust our services and we thanks them. Stop to overpay the services and save money with our tailored package matching will all type of removals, from small volume to full house, let us find the best and cost-effective option.
Communication is important, that's why we strive to discuss through the most suitable way for you !