1) Treatment difference between a small and a voluminous shipment
All parcels weighing under 2 kgs are considered small. Their height and width must also be smaller than 90 cm and 60 cm respectively. For international freights, express prices are generally very competitive. You only have to go to a post office to send it worldwide. From Vietnam, it requires 7 days at least, and 12 days at the most to ship your goods internationally using regular air freight.
All parcels weighing between 2 and 30 kgs are considered big. Like small parcels, it can be shipped from Vietnam to any international destination by going to a post office. Transfer durations are similar to the one inherent to small parcels.
But a week may be too much time for you to send or receive your parcel. That's where the express freight is stepping in. Express freight can deliver any shipment worldwide in less than 4 days. It is the fastest transfer method existing.
1.1) Regular air freight and courier freight comparison
Here is a table comparing express and regular freight. Their respective benefit and drawbacks are displayed, in order to help you choose the most adapted solution to your situation.
Regular Air Freight
Express Freight
Advantages
A very flexible freight solution
4 days on average to transfer your goods
Well-shaped for voluminous parcels
Well-shaped for small parcels
Faster than international rail or sea freight
The customs clearance process is very quick
Less expensive per CBM for bigger volumes than smaller ones
 
You're only charged for the space you're using
 
Drawbacks
Takes more time than an express freight
The most expensive freight solution
A lot more expensive than rail and sea freight
Costs are very high for big volumes
Some goods' categories can be refused by the airline, like products with lithium batteries
 
2) Let's compare rates from different express carriers
Here, we will focus on the cost of shipping. The cheapest solution will be pointed out as the best option. We will directly compare rates from Vietnam on the websites of the 3 biggest courier companies. This will bring you a better comprehension of the calculation method.
We're only evaluating rates of DHL, UPS and FedEx. You should know that other international courier enterprises are present in Vietnam, like EMS, TNT and Kerry Logistics. We're also in touch with them, but they aren't providing an online freight quoting tool. That's why we're not considering them in this article.
At the moment of the quotation: 1€ =1.14 $ and 1 € = 26,527 VND
2.1) Comparing rates from Vietnam to Europe
Price simulation with DHL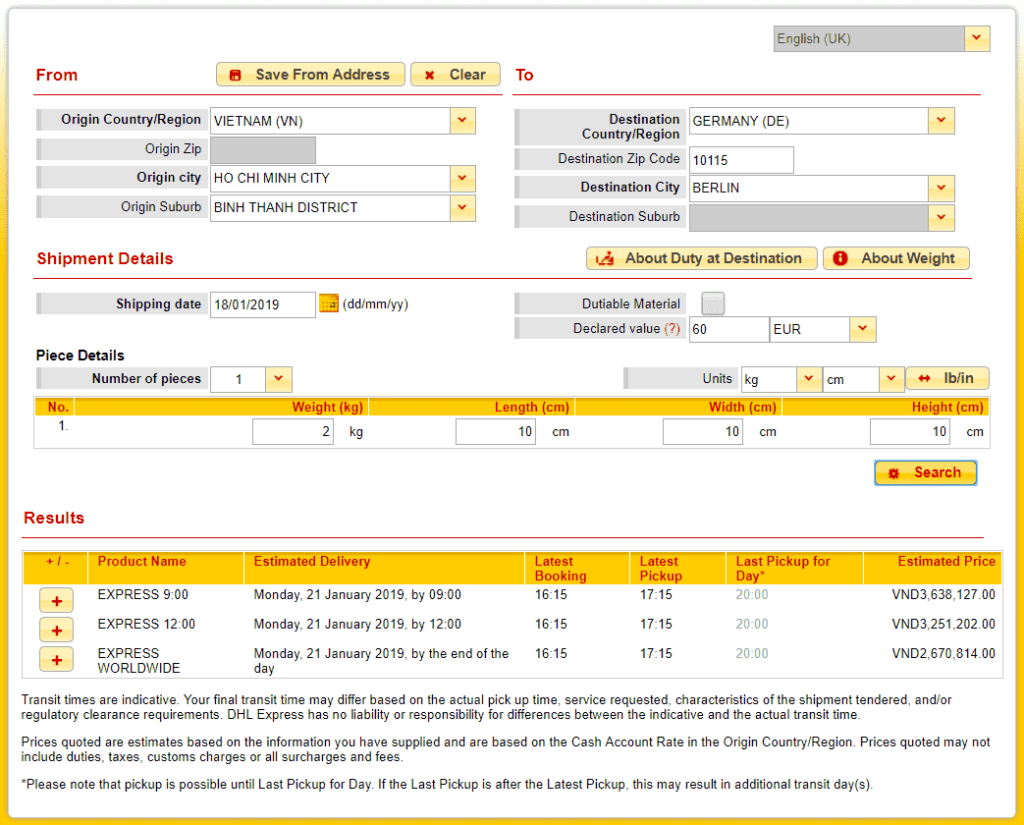 Price simulation with FedEx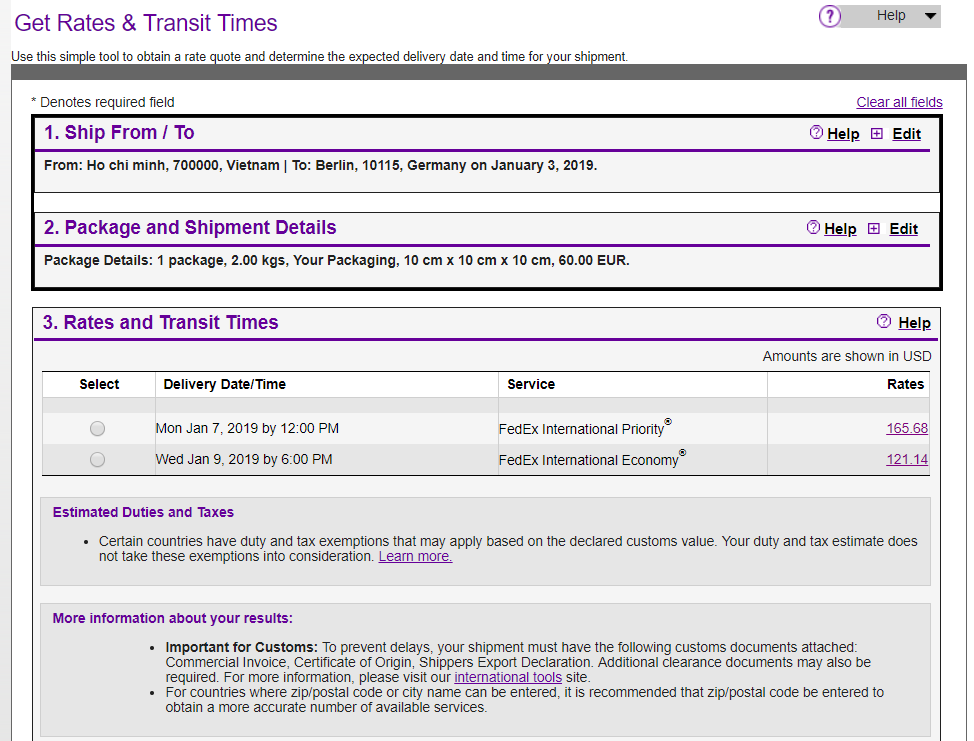 Price simulation with UPS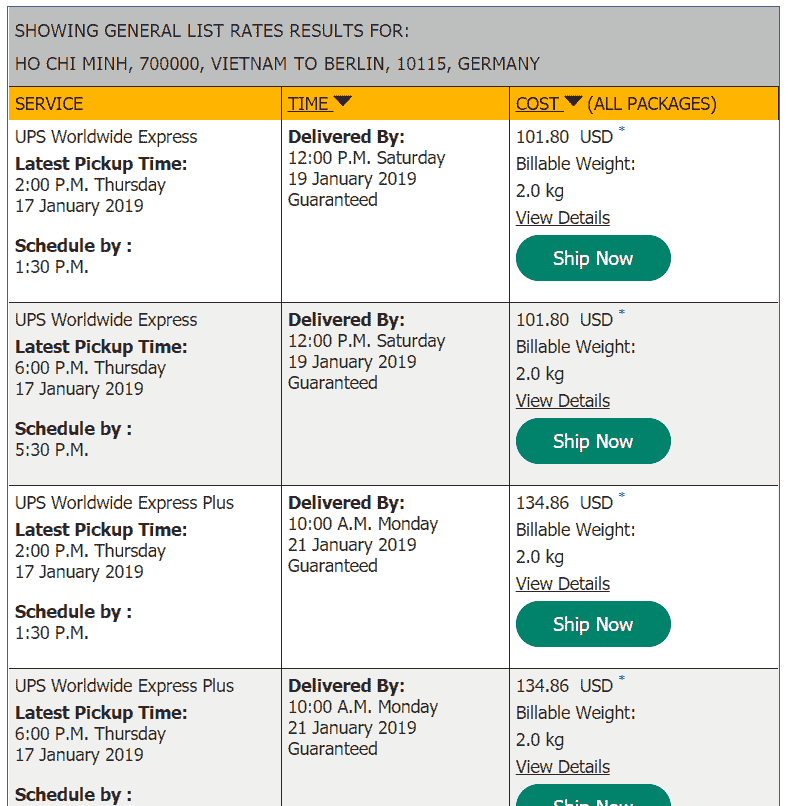 | | | |
| --- | --- | --- |
| DHL | FedEx | UPS |
| 116 $ | 121 $ | 102 $ |
For all demands to Europe, UPS seems to be the greatest option, based on price.
2.2) Comparing rates from Vietnam to India
Price simulation with DHL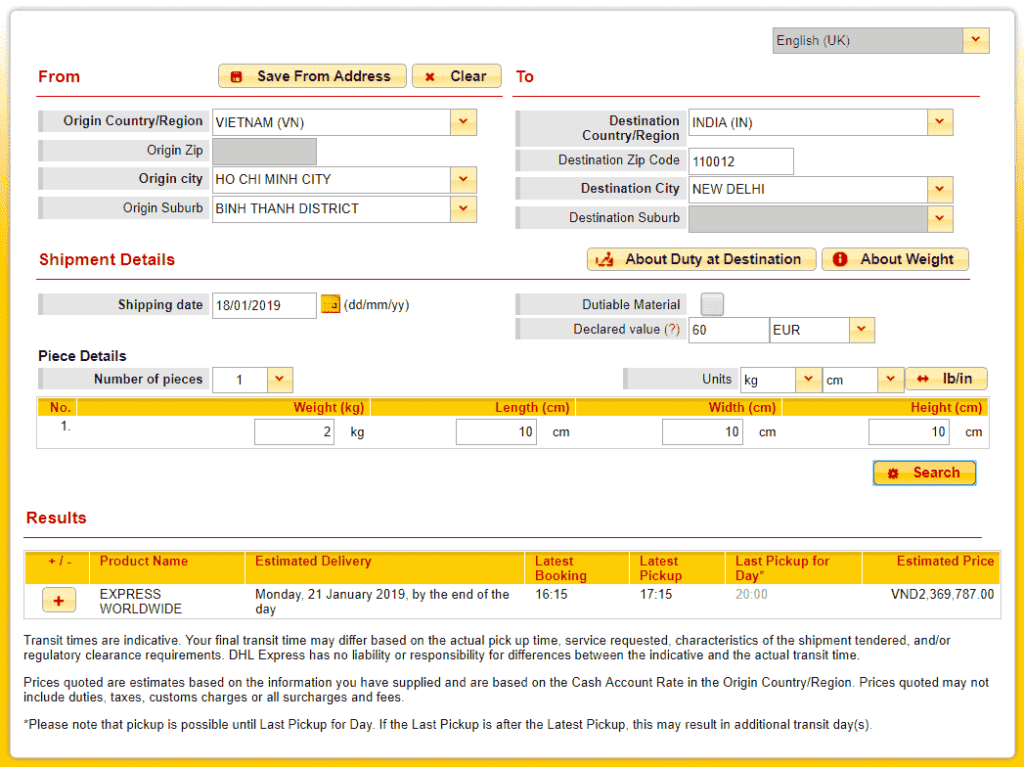 Price simulation with FedEx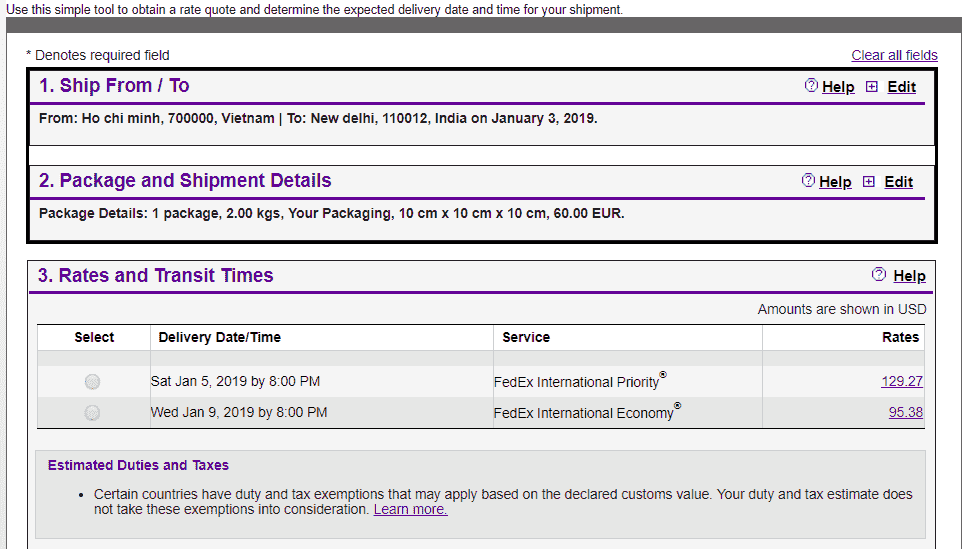 Price simulation with UPS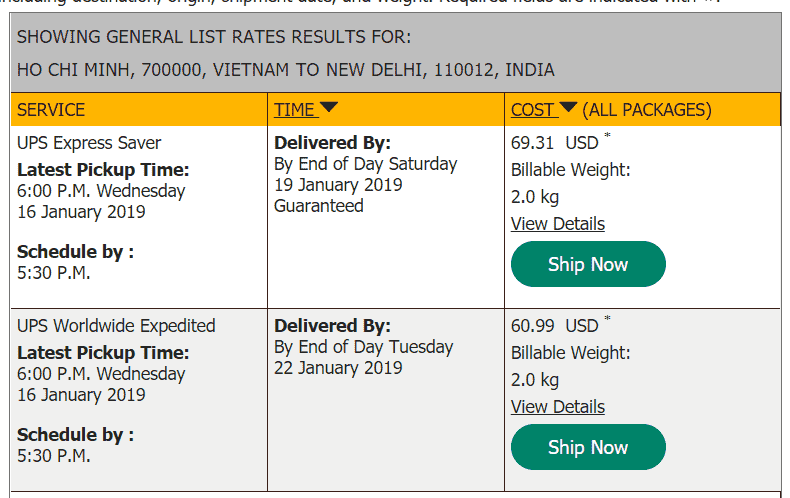 | | | |
| --- | --- | --- |
| DHL | FedEx | UPS |
| 102 $ | 95 $ | 61 $ |
For all demands to India, UPS seems to be a lot more competitive than FedEx and DHL.
2.3) Comparing rates from Vietnam to North America
Price simulation with DHL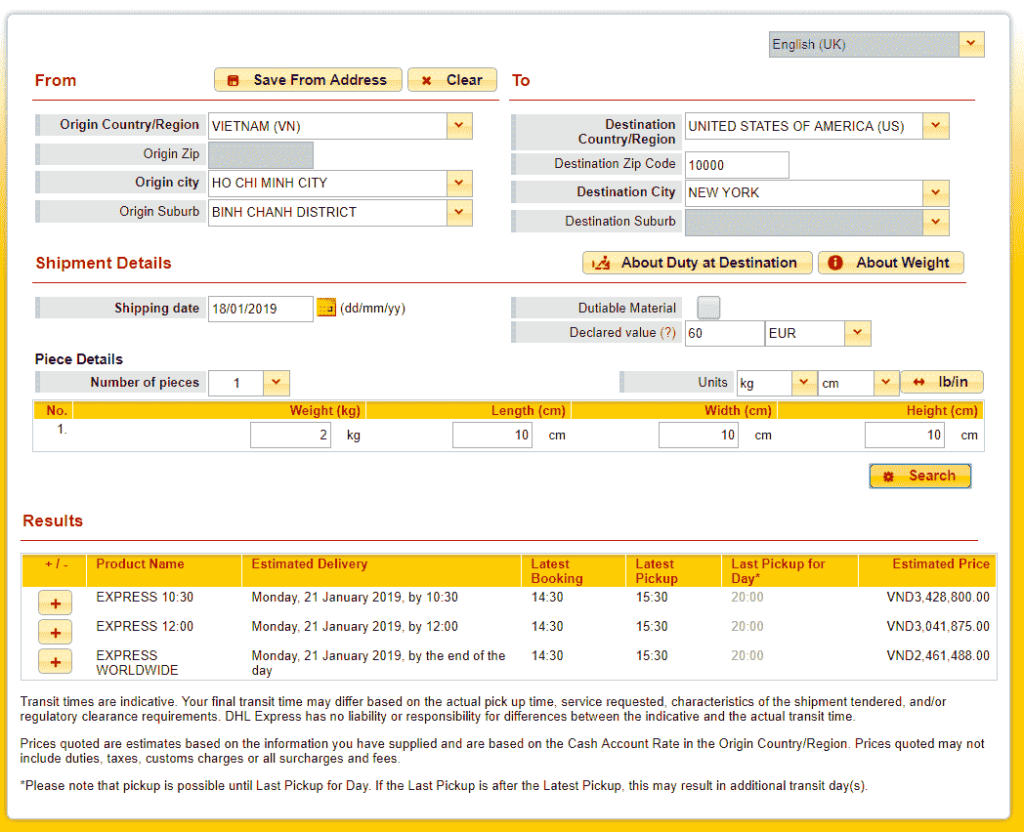 Price simulation with FedEx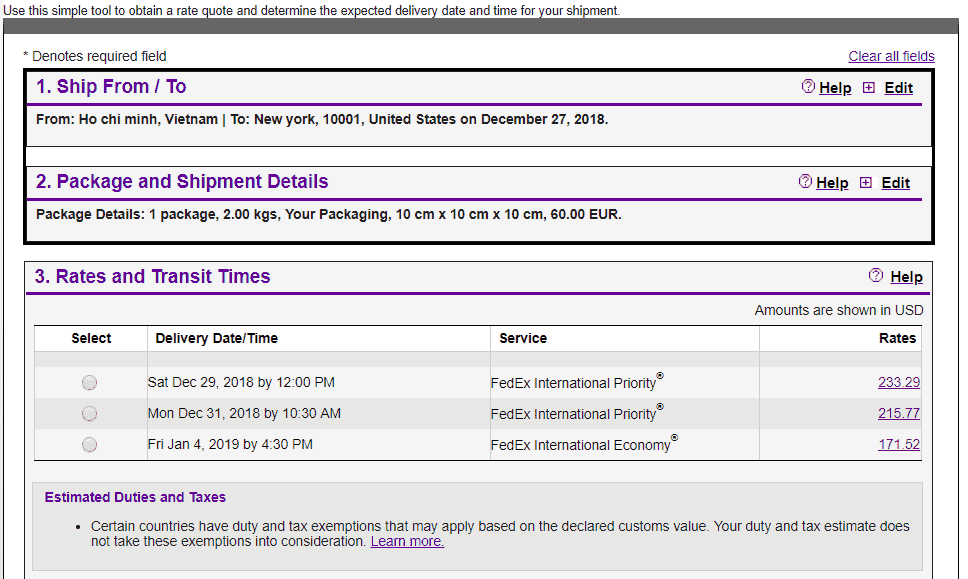 Price simulation with UPS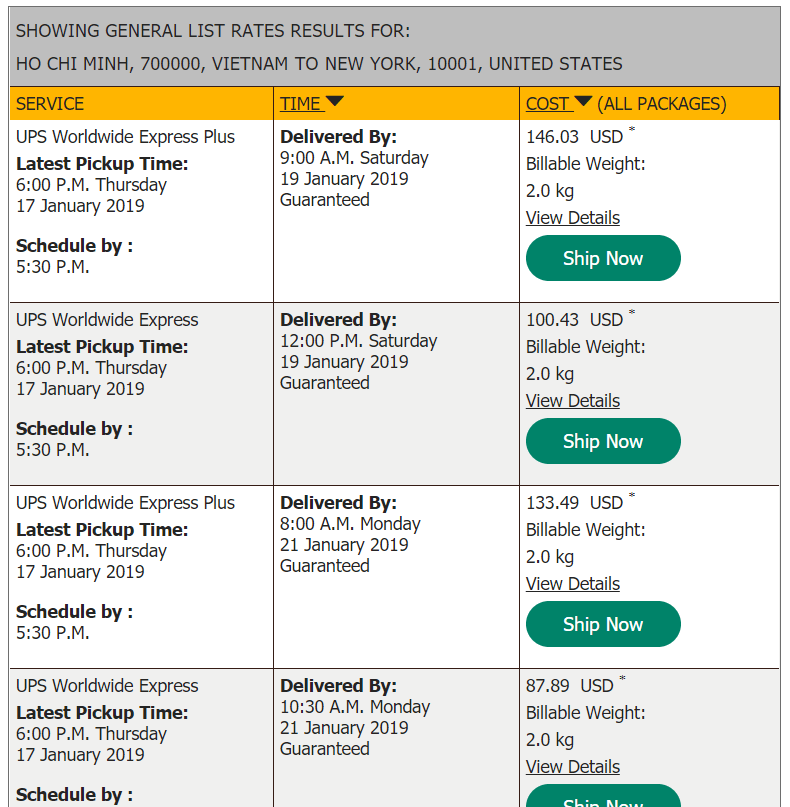 | | | |
| --- | --- | --- |
| DHL | FedEx | UPS |
| 106 $ | 171 $ | 88 $ |
From Vietnam to North America, UPS seems to be very more attractive.
2.4) Comparing rates from Vietnam to Japan
Price simulation with DHL
Price simulation with FedEx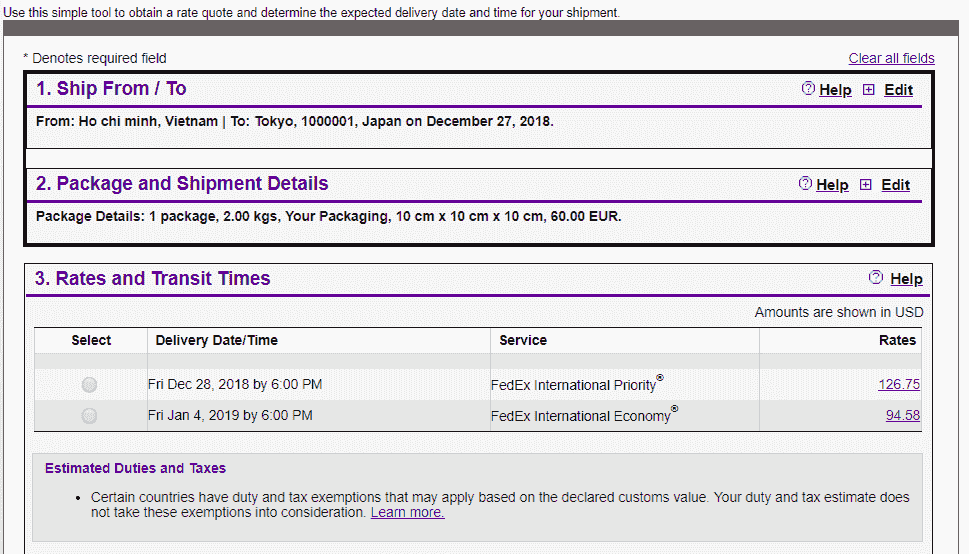 Price simulation with UPS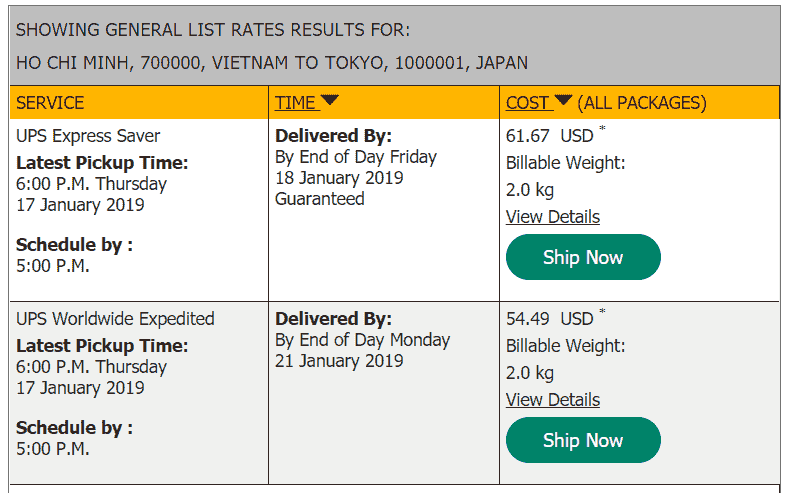 | | | |
| --- | --- | --- |
| DHL | FedEx | UPS |
| 86 $ | 94 $ | 54 $ |
UPS is also more profitable from Vietnam to Japan.
2.5) Comparing rates from Vietnam to the Middle East
Price simulation with DHL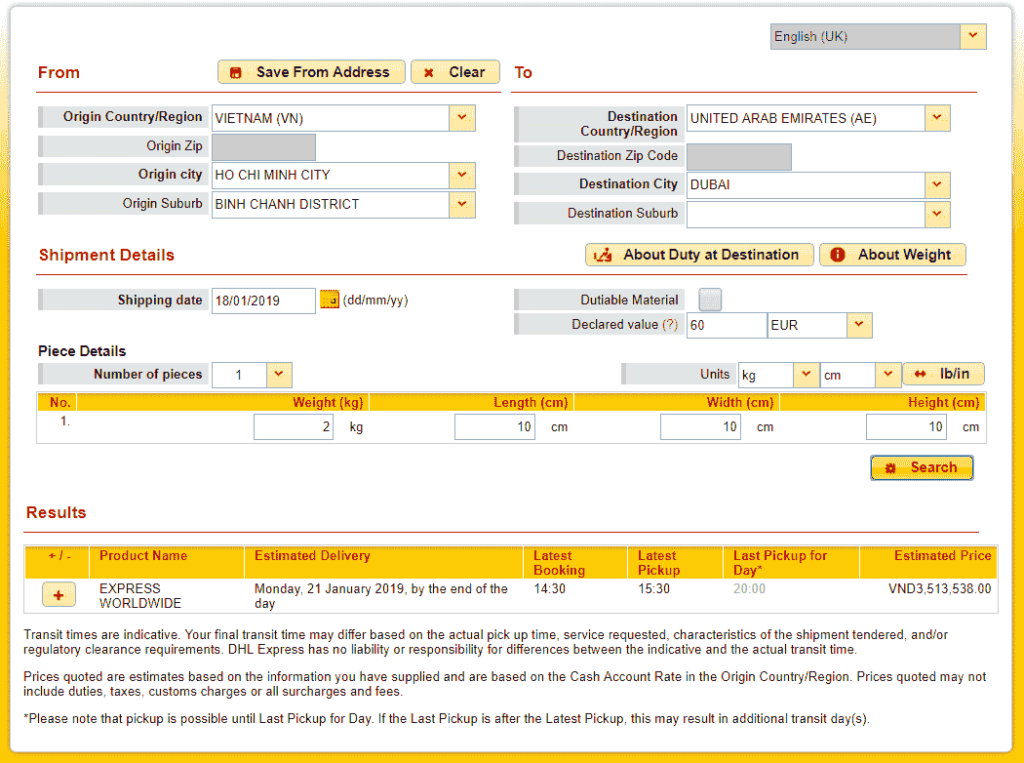 Price simulation with FedEx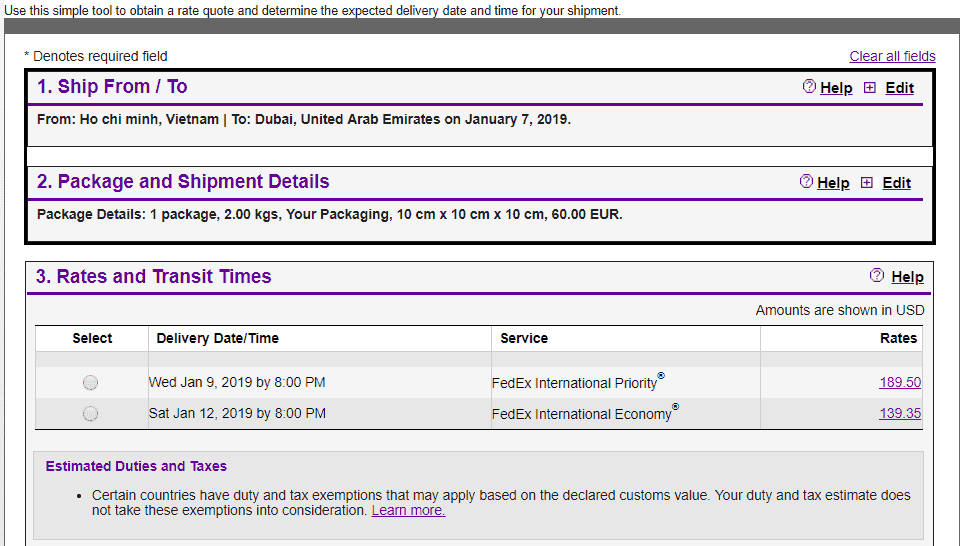 Price simulation with UPS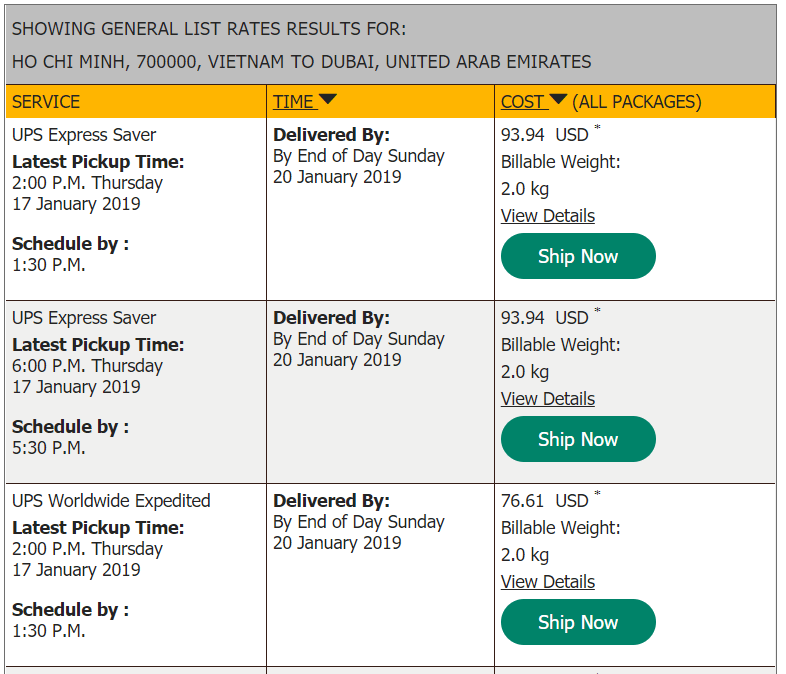 | | | |
| --- | --- | --- |
| DHL | FedEx | UPS |
| 151 $ | 139 $ | 76 $ |
UPS is also more profitable from Vietnam to the United Arab Emirates.
2.6) Comparing rates from Vietnam to West Africa
Price simulation with DHL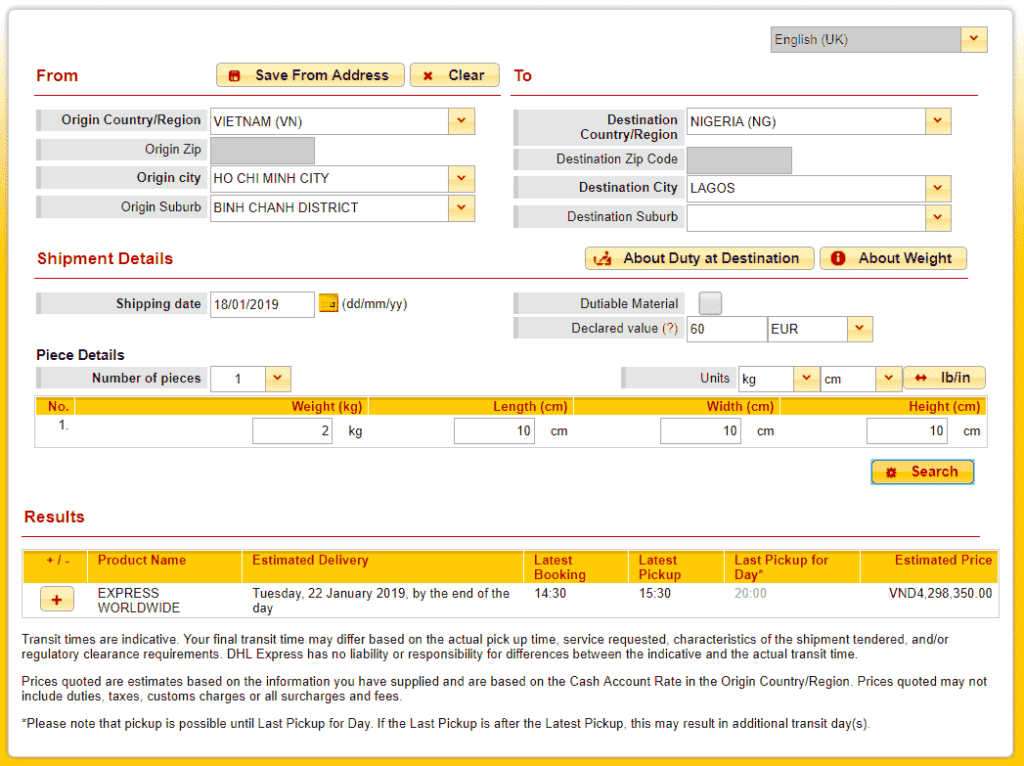 Price simulation with FedEx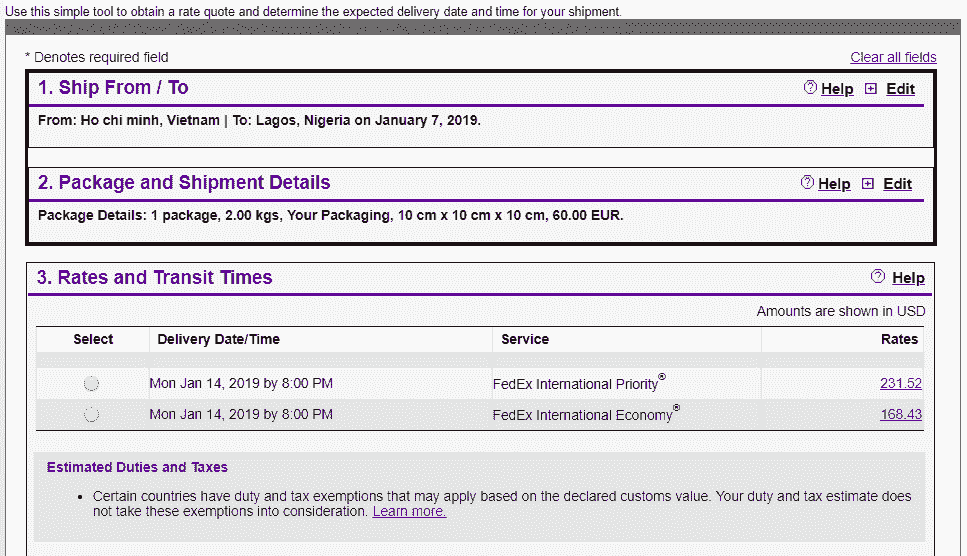 Price simulation with UPS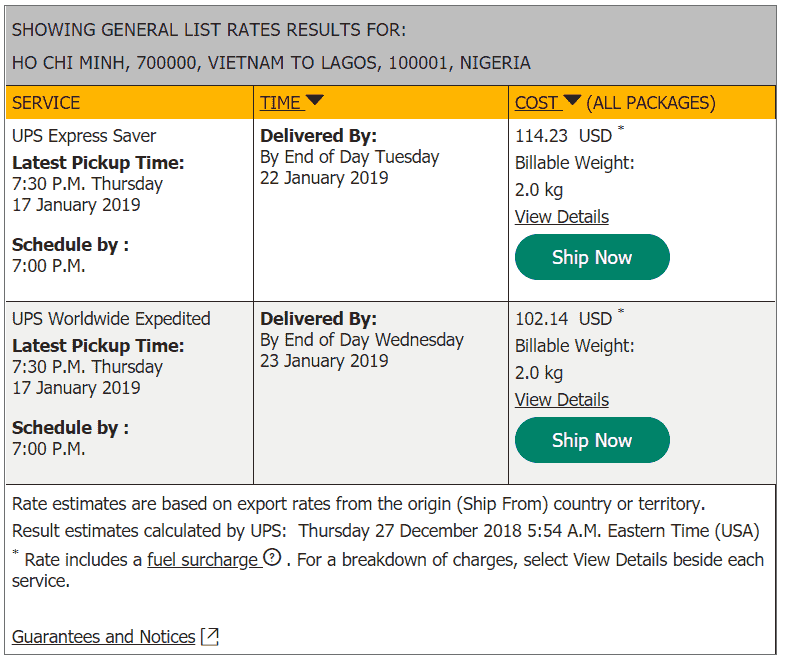 | | | |
| --- | --- | --- |
| DHL | FedEx | UPS |
| 185 $ | 168 $ | 102 $ |
From Vietnam to Nigeria UPS is also more profitable.
2.7) Comparing rates from Vietnam to Australia
Price simulation with DHL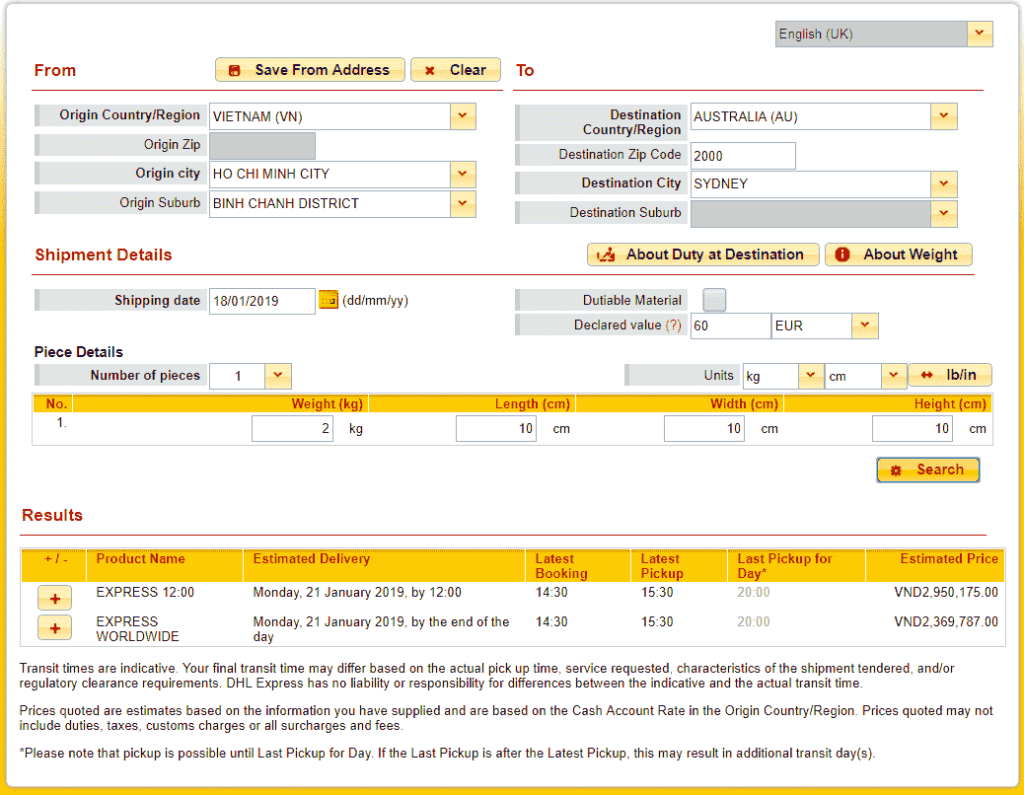 Price simulation with UPS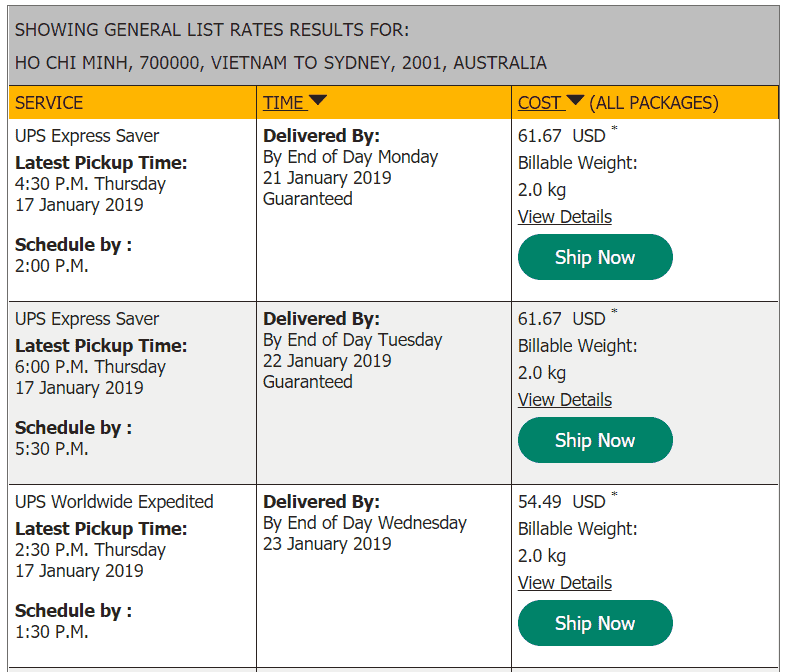 UPS is also more profitable from Vietnam to Australia.
2.8) Comparing rates from Vietnam to Brazil
Price simulation with DHL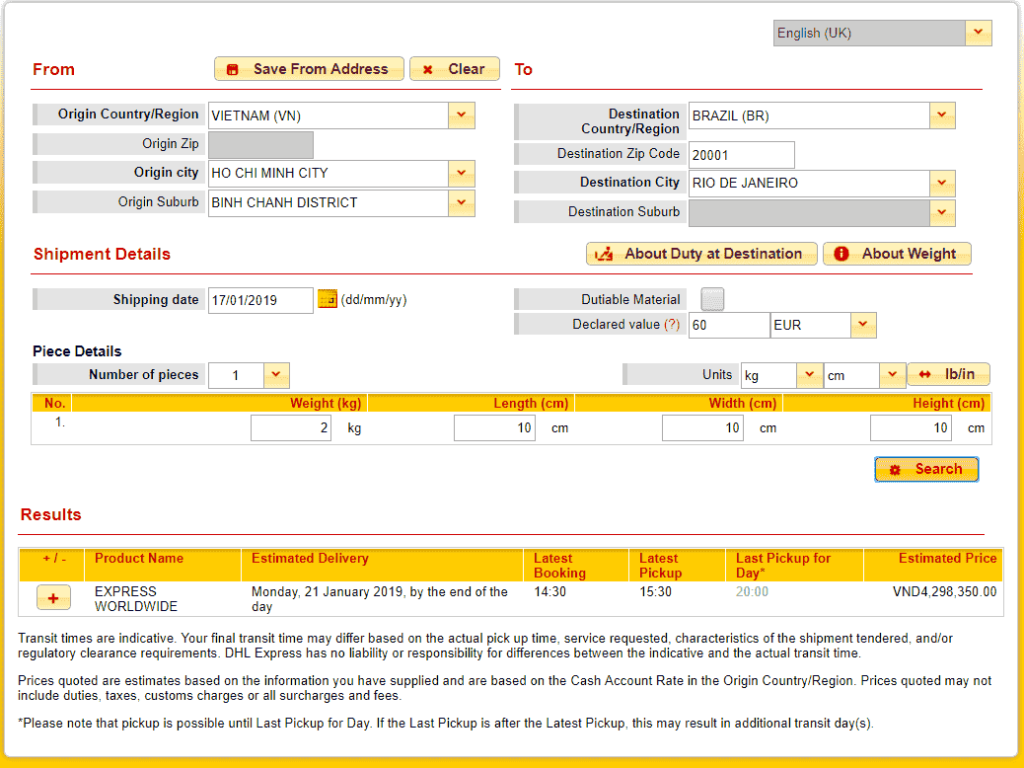 Price simulation with UPS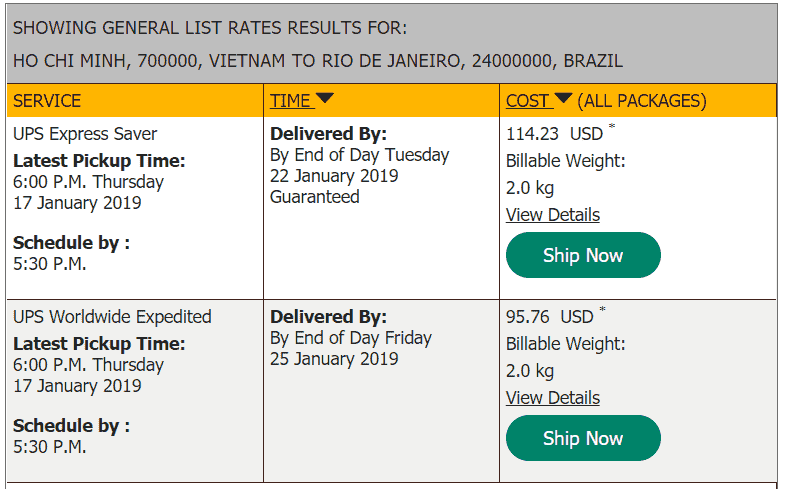 UPS is a lot more attractive than DHL from Vietnam to Brazil.
3) How to obtain an express freight quote?
You fulfil our quote form with all the details of your transfer
We send you our quote within 15 hours
We exchange via email or telephone to find quickly an agreement
Once agreed, we're contacting your supplier and we verify that everything is alright (packing, documents…)
We're picking up your goods at your supplier's location, or he deliver them to our warehouse
We're delivering your shipment to the courier (UPS /DHL / FedEx / EMS / Kerry Logistics…)
The package is directly arriving to the precise address
We will track your shipment and inform you of each evolution.
4) Why choose FNM Vietnam?
4.1) Attractive rates for every destination
What's the interest to send it via FNM Vietnam instead of sending it by myself?
Because every express carrier is giving preferential rates to enterprises that are sending great quantities of shipment every month. And it is our case. You can benefit of our attractive rates by giving us your parcel, instead of being charged with the standard shipping rates by doing it all on yourself. Furthermore, you can benefit of our All-in door-to-door services, because we will handle all procedures with the carrier. You will only have to read our tracking emails, while waiting for your parcel to be delivered.
4.2) Tailored solutions for e-commerce
FNM Vietnam is an e-commerce logistic specialist. E-commerce fulfilment being very complex and time-consuming, it is difficult for an entrepreneur to handle all its client orders. It is the case both for the inventory management and for dropshipping. Do not hesitate to ask for our expertise. We can handle your orders from Vietnam to worldwide and store your items in our state-of-the art warehouses. This will make you save a lot of time and allow you to focus on the best part of your business.
4.3) A great communication to let you know how it is going
As we said, asking for our services will provide you peace of mind. All our express services are door-to-door, so you will only have to receive the parcel at your location. We will keep you aware of every progress of your shipment during its transfer, so we will be totally transparent on the course of the shipping.
5) A few advises to organize your express freight from Vietnam
5.1) Pack your goods carefully, or let the professionals doing it
A great packing is the best way to protect your shipment. Indeed, it will be the last coat of the packing that will be handled during the transfer process:
If the box or the original carton is damaged or fragile, don't hesitate to use another bigger box to place it all inside
Bubble wrap and journal paper are two great coating materials, to cushion all the eventual knocks that your shipment may endure
Using thick scotch tape to seal the box and reinforce the packing
At the end, your item must be unable to move inside its packing
Be sure that the address is clearly written
Secure all the shipping labels and join the customs documents to it
Some items are needing a specific packing, required by the carrier to send the goods. We will transmit you the instructions in that situation.
Our packing teams can handle the packing of your goods if you wish. Our material and skills are guaranteeing a maximal quality for your shipment.
5.2) Weigh and measure your goods very precisely
To avoid any mistakes during the shipping, be sure that the weight and the dimensions of your parcel are precisely measured. In this aim, you have to weigh and measure your goods once the packing is finished.
Also, carriers are using the volumetric weight to calculate your shipping cost. This weight is different than the gross weight of your items.
The following picture is describing the difference between gross weight and volumetric weight: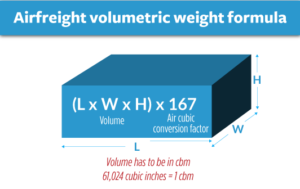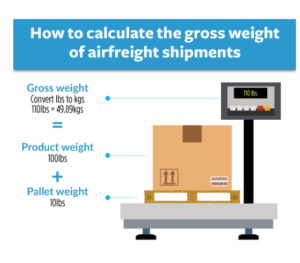 5.3) Verify that your shipment can be sent
We will be obliged to refuse certain articles because they aren't accepted by express carriers. Here is the list of restricted items by DHL, it will give you a look of what can't be sent.
In case of doubts, do not hesitate to contact our consultants. They will answer you within 20 hours.
5.4) Do not forget to ensure your shipment
Even if it isn't mandatory, an insurance covering your shipment is well advised against all misfortune that can occur during your freight. Even though courier enterprises are very pernickety on security, if your shipment have an important value, we advise you to subscribe to an insurance policy.
Our consultants will suggest it automatically and will advise you the most adapted coverage. You will have the best information to take a decision.
5.5) Don't forget to put your address on the parcel
It is mandatory nowadays. The sender's address must be automatically written on the parcel, to ensure an optimal traceability of your shipment and also to return it to yourself if it cannot be delivered.
5.6) Don't do it on the last minute
In general, avoid sending your goods on the last time. This will enable you to dodge all delivery delay. This is particularly right during the periods of intense transports, like in the month of December, or during the sales.
If the delivery time proposed by the carrier isn't fast enough, we can provide you our NFO or OBC shipments, that are the fastest possible.
For all express freight from Vietnam, FNM Vietnam is the forwarder you need. Ask for a quote, in order to see our competitivity. We will handle all your paperwork, like the customs clearance… Our door-to-door services will allow you to have the greatest piece of mind during the freight. Contact our specialists, to the bests information asap.
FAQ | Express Freight Vietnam
📩 What are the courier companies present in Vietnam?
The 3 biggest courier companies are DHL, UPS and FedEx, but there are also EMS, TNT and Kerry Logistics.
📦 How do I know if my merchandise volume is considered small?
If you are shipping goods with a total weight of less than 2kgs and a height and width of 90cm and 60cm maximum, then this is considered to be a small volume shipment and can be shipped via post office. Between 2 and 30kgs, your goods are considered big but can also be sent by post office, however the delivery will take much longer and this is where express freight is the best method to send all kinds of parcels very quickly.
🚀 What are the advantages of using express freight?
Express freight has an average delivery time of 4 days for all types of parcels, the custom clearance process is very fast and is also well-shaped for small parcels. It is the best solution to get what you want where you want it very quickly. However, the prices can be more expensive to meet the deadlines, so it is important to look at all the solutions that are available to you and which are all referenced in the article of FNM Vietnam.
🧰 How to organize your express freight?
It is very important to pack your goods in a very secure way so that no problems occur during the journey and it is therefore recommended to ask for the service from a third party company if you do not have the means to do it yourself. Finally, it is necessary to know exactly the weight and dimensions of your merchandise, and also if your merchandise can be transported by express carriers and many others that you will find in the article of FNM Vietnam.
📀 Why choose FNM Vietnam for express freight?
FNM Vietnam has partnerships with many courier companies and this allows them to offer you the best rates for your shipments with a quality incomparable with its competitors. They also have an all-in door-to-dor service which is very appreciated by their current customers. If you want to do e-commerce, FNM Vietnam also has warehouses around the world that will allow you to store your goods in order to ship your orders faster to your customers. Go to their website to learn more about their services!
DocShipper | Your dedicated freight forwarder in Vietnam !
Due to our attractive pricing, many customers trust our services and we thanks them. Stop overpaying the services and save money with our tailored package matching will all type of shipment, from small volume to full container, let us find the best and cost-effective solution.
Communication is important, which is why we strive to discuss in the most suitable way for you!