Everyday logistics and transportation companies process a wealth of data for better decision-making. However, relying only on spreadsheets while planning the supply chain leads to ineffective resources and time sharing. Therefore, supply chain analytics is considered one of the most critical investments for making a smooth-running supply chain management system.
But how to extract intelligence from a logistics network to make the most out of it? This is where supply chain analytics software comes into play. This solution allows enterprises to improve the entire supply chain by receiving valuable insights.
This post will reveal the essence of the supply chain, its opportunities for businesses, use cases, and analytics software implementation steps.
What Does Supply Chain Stand For?
In an ideal situation, businesses will be able to run their operations where you would have the exact number of suppliers you need, you would be perfectly efficient, and there would be no supply chain disruptions. Unfortunately, that doesn't happen in reality, but you can get pretty close with supply chain analytics. 
It stands for a set of techniques organizations use to acquire value and bring information together throughout a logistics network. The data can be granted from different logistics management systems, such as transportation management systems, freight management systems, fleet management software, load planning software, etc.
Each supply chain is a unified ecosystem with many transportation processes entailed, producing, and requiring data for efficient supply chain operations. The collapse in one link may disrupt the entire chain, resulting in a reduced delivery experience. That's why freight companies demand digitized solutions to boost supply chain visibility and delivery efficiency.
Implementing supply chain analytics software will give you an integrated overview of all logistics activities and a precise vision of separate activities' performance. The scope of processes that can be addressed by supply chain business intelligence tools varies from resource planning to inventory management and logistics management.
Types of Data Analytics in Supply Chain
Now, let's review the key areas in analytics that have to be accounted for to enhance business metrics.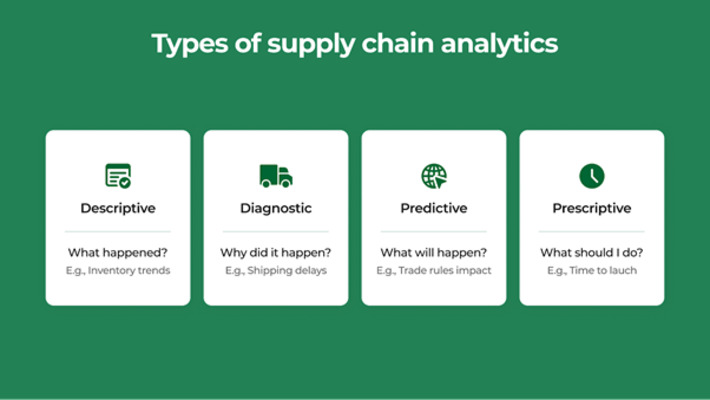 Descriptive analytics
Whether you're an enterprise or startup, it is more or less that you already have data to look at. This kind of analytics focuses on previous actions that should be analyzed to make intelligent predictions about future business, define areas in need of improvement, and get an improved understanding of the business in the past.
Diagnostic analytics
Once you've got a better comprehension of what's happened, you need to start to move towards diagnostic analytics: it will assist
you in determining causal connections. Knowing what's happened without understanding "why" is useless in forming a further development strategy. For instance, it allows you to ask questions like: "
Why did my revenue fall in a certain subsegment of the company?
Why do I have stock that's constantly running low at one of my warehouses?
Why are shipments being delayed or lost?, etc.
Predictive analytics
The notion speaks for itself. Once you've understood the history of data you have f
or your enterprise, you can then leverage it to do predictive analytics. It allows for a business analysis on a more advanced level. Instead of just scrutinizing the data, business owners can predict logistics performance based on the information derived. Thus, you'll be able to determine what factors can affect your business (e.g., how lockdown will impact the price of finished products). For instance, with the help of machine learning, you'll be able to look at your data sets and forecast, for example, an amount of stock or inventory required in the future.
Prescriptive analytics
It assists in determining the best advancement direction at any given moment. The market does change fast, and when that happens, you should understand what decisions to make (e.g., whether or not to build an extra warehouse, when to launch a new market solution, and so on.). A good supply chain analytic platform should be able to make those recommendations for you. It's being backed by all sorts of data that you've collected throughout the time, ultimately allowing you to make much better business decisions.
Benefits of Analytics in Supply Chain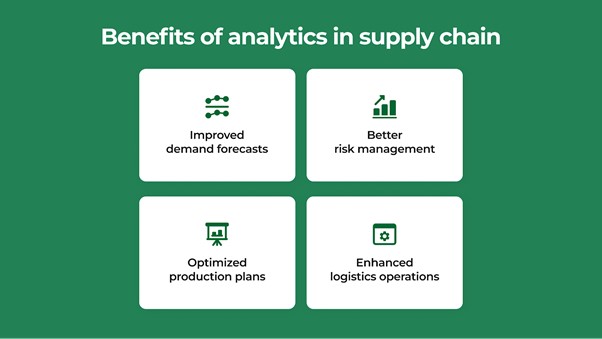 Supply chain analytics can be advantageous for businesses that rely on transportation because it improves margins and simplifies capital management. Here are the key reasons logistics companies need a supply chain analytics solution.
Astuce FNM : Reach out to our experts to help you throughout the procurement process. Our teams are very responsive. Thanks to their experience, they are able to provide you with a quote as soon as possible.
Improved Demand Forecasts
Modern supply chain management analytics platforms can provide businesses with a comprehensive view of their total operations. Previously, organizations needed to count on data about past orders to define the possible demand level. Commonly, those predictions didn't consider likely future fluctuations in the demand landscape. With the help of specialized intelligence software, you'll be able to generate a dynamic demand prognosis that accounts for multiple variables affecting those demand.
Optimized Manufacturing Plans
Let's say you intend to schedule manufacture for motor vehicle parts in a non-production environment. Unlike clocked production conditions, there is no straight order between machines that accept each part. Thus, it's arduous to make a peerless production workshop plan manually. This has caused the majority of transportation enterprises to be enclosed in inefficient delivery processes failing to increase production capacity and address workflow interruptions. Supply chain data analytics tools may help you handle all those issues. It has the power to streamline the current production workflow by generating alternative manufacturing plans to overcome actual or theoretical disruptions. In addition, it'll allow you to adjust your actions under unexpected circumstances.
Better Risks Management
Integrating novel supply chain management technologies goes a line with opportunities yet risks. Thus, before capitalizing on new logistics tech solutions, CEOs should evaluate all pros and cons. Supply chain business intelligence tools will enable alleged/future dangers detecting and forecasting, correct planning, better inventory control, and customers' demand aligned. For example, using such software, you'll be able to calculate the effect of specific carriers' delays, entailing the number of possible late deliveries and expenses on each return.
Enhanced Transportation Operations
Custom supply chain analytics apps can also help you increase the productivity of transportation processes. For instance, it can scrutinize the capacity of your freight network to identify areas that need to be modified; accurate demand forecasts will allow for shipping planning in advance (with greater confidence). Especially given the fact that transport management is an epitome of complex and interrelated processes. With a smart analytics platform, supply chain planners will get an extra powerful tool for better logistics network planning or dynamic re-rerouting in case of cargo disruptions.
Supply Chain Analytics Integration Pipeline
Successful supply chain analytics app adoption requires a considerable business and IT infrastructure analysis, preparation steps, and cooperation with a trustworthy IT partner with deep expertise in logistics soft development. In a nutshell, you need to run through the following steps:
Define business problems
Determine data sources
Select IT vendor
Development and integration
Staff onboarding
Support and maintenance
Now, let's consider them one by one.
1. Define Business Problem
The first stage relates to answering the question: "What do you supply chain analytics software for?". Knowing what business issues need to be addressed makes preparing a product's requirements easier. You may have a lot of pain points you want to resolve, but it's better to concentrate on key ones. Besides, your business goals may go further than "reduce expenses" or "improve margins". For example, you may want to:
2. Determine Data Sources
There is no sense in supply chain analytics app development if you don't determine the following:
What data needs to be analyzed
From what sources it should be derived
That's why you need to define what information is already being used and what data centers it's obtained from (e.g., ERP system, warehouse management system, last mile delivery software, social media, etc.). During the analysis, you may detect that critical data is missing or must be digitized, or some data sources are overused.
3. Hire a Reliable IT Vendor
The logistics project success is defined by the expertise level of the chosen IT partner. But how to decide on a trustworthy vendor? Here are the critical factors to take into consideration:
Industry expertise
Keep close tabs on vendors' expertise to ensure you receive the job done. Most likely, the team experienced in delivering media projects won't be able to deploy logistics ones. Instead, they must be acquainted with processes and tech stacks related to your business domain.
Portfolio
It's always better to cooperate with the team that has already delivered the same projects. But, you can also consider the vendor with hands-on experience in building logistics-related projects, such as freight management systems, yard management systems, warehouse management systems, etc. These systems include analytics, and reporting features yet are restricted in the information provided. Check candidates' portfolios to discern if their projects are aligned with your future analytics app concept.
Price
For the majority of companies, especially small ones, the product delivery cost is a master factor when selecting an app architecture partner. Actually, the project budget is defined by the cooperation model you choose: freelancers, an in-house team, or software outsourcing. When it comes to deploying enterprise-level software, such as data analytics supply chain apps — it's better to outsource the product development to a third party. This way, you can take the responsibilities off your shoulders, access a wide talent pool, and get a top-quality product in tune with your budget. The most demanded hubs for IT outsourcing are Central and Northern Europe. These regions are popular thanks to their "price-quality ratio," unique expertise, and thoughtful communication approach.
Clients' reviews
Customers' reviews are another significant factor in decision-making. They allow you to determine whether the chosen vendor is worth your time and money. Besides, relying on someone else's experience will enable you to handle expectations and potential issues. One of the best business platforms for IT companies comparison is Clutch. You can run through the vendor's profiles to learn their services, company size, and real clients' feedback.
4. Gather Project Requirements
At this stage, you already collaborate with the chosen IT company. After the company's business analysts scrutinize your input data, the project specification is prepared. It includes core functionality, development tool set, user requirements, and other project-related details. It's worth mentioning that you should examine closely the future product feature set depending on your business needs. For example, if there is just a need for supply chain performance visualization and monitoring, you can deliver a simple analytics tool. But, if you want to get action-oriented insights and increase forecasting accuracy — it makes sense to develop a full-scale business intelligence platform.
5. Development and Integration
This stage implies building a customized analytics app solution under discussed requirements. Typically, the software products run through the traditional Agile SDLC process — discovery phase, design, coding, testing, deployment, and maintenance. The whole process is split into separate parts (sprint), which are two, three-, or four-week periods for specific parts of functionality execution. Before proceeding to the coding stage, the team performs a deep business analysis and creates a project roadmap. Strict planning allows for preparing a minimal group of features for one development cycle. After the logistics and supply chain analytics platform is made, the specialists integrate it into your current business flows, ensuring data integrity and protection.
6. Personnel Onboarding
On the one hand, capitalizing on new digital solutions greatly contributes to increased business performance. However, on the other hand, it entails some difficulties related to staff ready to deal with novel technologies. That's why it's vital to consider effective onboarding procedures to assist your team in a modern software solution application.
7. Support and Maintenance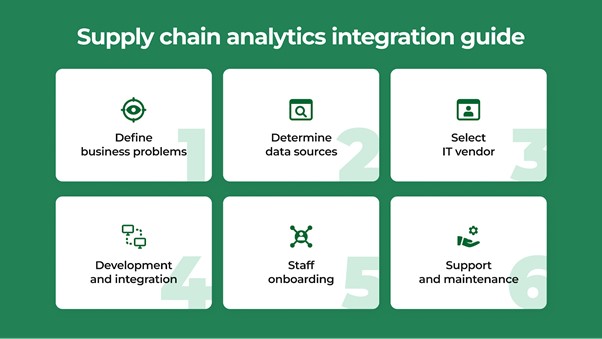 Data analytics supply chain software stands in line with complex enterprise-level digital solutions that should be continuously supported and later updated. For this reason, don't hurry to stop collaborating with your dedicated development team. Code optimization, adding new functionality, legacy soft modernization, and other preventive activities will keep you updated with the changing market environment.
Summing Up
In recent years, supply chains have increased in importance across many industries as a vital channel for the delivering of goods to end-customers. As a business owner, you rely on extensive supply chain networks to bring your products and services to market. For that reason, integrating supply chain analytics software is required to improve decision-making driven by valuable data.
FAQ | Why Do Logistics Businesses Require Supply Chain Analytics
How do decision-makers take information into account?
The collection of information is fundamental to better manage the supply chain and satisfy the customer. Thanks to the information, we will gather the important information thanks to the KPI (Key Performance Indicator).
What is the best choice if I need my product as quickly as possible ?
With our experts, the Express shipping is your best choice if you need your products quickly.
How to optimize the production of new products?
Before manufacturing a new product, companies must establish a market study. The data collected will allow decision-makers to choose which strategy to adopt.
How do you satisfy your customer?
With the latest technology, KPIs have become essential to take customer feedback into account. The data is processed by our experts and we take them into account in our commercial strategy.
Author Bio
Yuliya Melnik is a technical writer at Cleveroad. It is a web and mobile app development company in Ukraine. She is passionate about innovative technologies that make the world a better place and loves creating content that evokes vivid emotions.
DocShipper info: Did you like this article? You may also like the following:
Advice FNM :We help you with the entire sourcing process so don't hesitate to contact us if you have any questions !
DocShipper | Your dedicated freight forwarder in Vietnam !
Due to our attractive pricing, many customers trust our services and we thanks them. Stop overpaying the services and save money with our tailored package matching will all type of shipment, from small volume to full container, let us find the best and cost-effective solution.
Communication is important, which is why we strive to discuss in the most suitable way for you!