When talking about shipping freight, there are so many factors to consider. The size and the type of the shipment, how fast the shipment needs to be delivered and the cost of shipping are just some factors involved. That being said, listing out all the shipment options would be quite challenging.
Instead, here, we will focus on the difference between FTL (Full Truckload) and LTL (Less Than Truckload) shipping services. This way you can get a bit more familiar with the main differences between these two types of shipments so that you can more easily determine the one that's better suited for your needs.
FTL vs LTL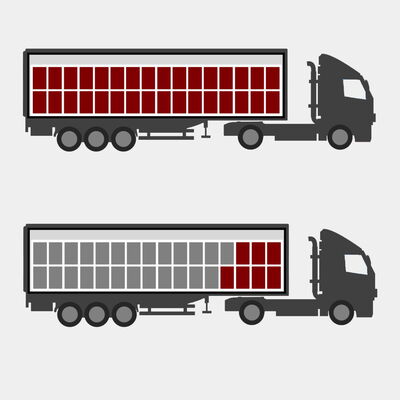 The first major difference between the two can be easily understood by simply looking at their names.
FTL or full truckload refers to a type of shipment that will most likely take up the entire space of the truck when being shipped.
On the other hand, LTL or less than truckload, won't require an entire truck in order to be shipped.
Knowing this, it will be somewhat easier to determine the option you should choose. Most commonly, the choice between these two options will depend on the size, weight, and shape of your load, but pricing, handling, and the time it will take to deliver the goods will also affect the final choice. With that being said, let's explore some major considerations you'll need to pay attention to when choosing between FTL and LTL shipping services.
DocShipper Advice: Do you want to ship your goods by ocean? or maybe on an airplane? Or perhaps on a train or a truck? Guess what, you just have to choose, because thanks to our shipping services, we offer you every shipping method possible and we take care of the whole shipping process. Now contact us for more details! 
The size of your load

When deciding which of the two options to choose, you first need to consider the size of your load. Shipments that range from 100 to 5,000 pounds, and are no more than 10, 000 pounds max, will usually be shipped using LTL services. Simply put, due to the size of these shipments, there will be plenty of room left in the truck for some other shipments as well. That's why, whenever you're shipping something that's not too bulky or that doesn't take up too much space, an LTL shipping option may be better for you. On the other hand, a load that exceeds 10, 000 pounds should be shipped using the FTL option. FTL shipments can easily exceed 20, 000 pounds and are usually quite bulky and large which is why they require a truck all for themselves. However, even if your shipment is not particularly large or oddly shaped, you may also consider the FTL option, particularly if you're shipping goods that are of extremely high value or that are particularly delicate and require a special kind of handling.
The cost of your load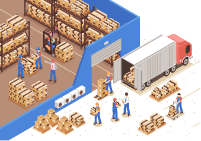 Another thing you need to consider when choosing the right option is the cost of the shipment. With FTL shipments, your cargo will take up most if not all the space in the truck. This means that the truck driver transporting your goods will only have them in their truck. Needless to say, this is a pricier option than LTL, where you will only be paying for the space your cargo takes up. It's important to understand these differences in pricing so that you don't end up needlessly choosing the pricier option. So, keep in mind that a single truck driver can deliver only one FTL shipment, while the number of LTL shipments that can be made with a single-vehicle will depend on the size of every single one of them. Again, it's worth mentioning that if you're shipping extremely valuable goods, it's sometimes a better option to go with the FTL service, to ensure that all of your goods reach their destination as safely and as quickly as possible.
DocShipper Tip: If you are located in Asia and you want to transport your goods from an asia country to another, then there won't be a better choice than DocShipper! Our truck freight service is here to help you move your merchandise. So what are you waiting for? Contact us and fill up the free form! 
The handling

As mentioned earlier, aside from the size and the cost of your shipment, you also need to consider the type of goods you're shipping. If your load is high-risk, extremely valuable or highly delicate, FTL shipping will probably be a better choice, no matter how big or small your load actually is. As previously noted, with LTL shipping, your freight won't be the only one that's being transported. What this means is that with LTL transport, there's plenty of room for error. Choosing the right option is also particularly important when it comes to the international transportation of goods, and especially if your load requires specific handling. Even though most of the reputable trucking companies tend to have excellent user protection policies in place and guarantee cargo safety, things can still go astray. Therefore, if you want to ensure that your load is being handled properly and reduce any chance of things going missing in transport, consider going with FTL services instead of LTL services.
The duration it will take for your load to arrive

There are significant differences in how fast your load will be delivered, depending on the option you choose. If you really need to make sure that your load is shipped and delivered quickly, FTL will be the best choice. Again, since with FTL your load is the only thing that's being shipped, things tend to move significantly faster. With LTL shipments, drivers will make multiple stops and the freight may even change vehicles before it reaches its final destination. Depending on where you're transporting your load to, FTL shipments will usually be delivered within a couple of days, while LTL shipments may even take up to a few weeks.
DocShipper Info: We offer many types of transport: through sea, through air or by a train. But did you know we also offer multimodal freight? Yes! We can bring your products to you by using more than one method of transport. In this article, we explain more about multimodal freight and how it works! Contact us for more!
The safety
Finally, when shipping any type of freight, you want to ensure that it's entirely safe. As previously mentioned, with LTL shipping it's not uncommon that freight can sometimes change the truck it's being transported in. This can, unfortunately, lead to freight ending up damaged or even lost, which is certainly less than ideal. So, make sure that your load is properly packaged, so that it can easily withstand handling at – potentially – numerous points throughout the shipping process. If you fear that anything can go wrong with your shipment, then it's always a better choice to go with FTL shipping instead.
FAQ | Trucking Services: Difference Between FTL and LTL
What is the difference between FTL and LTL?
FTL (Full Truckload) refers to a type of service where one would hire an entire truck for a single shipment. On the other hand, LTL (Les Than Truckload) is a type of service where numerous shipments are being transported in a single truck. Simply looking at the names of these two types of services provides an explanation. Most commonly, loads over 10, 000 pounds are usually shipped using the FTL option and anything less than that can be shipped by using LTL services.
Do I need a full truckload?
If for some reason you're not sure whether you need to commission an FTL service for your load or not, do know that the majority of trucking companies offer some sort of quote generator. This way you can easily calculate the type of service that would be ideal for your load based on its size and weight. More often than not, however, shipments that large, bulky or oddly shaped are usually best shipped using FTL services. Aside from them, if you're shipping goods that are extremely valuable or highly delicate, an FTL service will also be a better option.
Which option is better for me – parcel delivery service or LTL service?
Generally speaking, any shipment that exceeds 150 pounds is most commonly shipped using LTL services rather than parcel delivery services. However, it's not unheard of that packages and loads of this size can also be shipped using parcel delivery services. More or less, the choice between these two options will boil down to your personal preferences. By pricing out both options, you'll be able to determine which one of these two options is better for you.
Are there any packing or packaging guidelines I should follow?
When using any type of shipping and delivery service, you will most commonly be required to pre-pack your load. Now, there are lots of different requirements and guidelines when packing and packaging is concerned. Ideally, you should check with the company of your choosing and see if they have any specific guidelines on how to package your shipment. Some of the most common requirements include packing your load in a box – and securing it with bubble wrap if necessary.
FNM info: Did you like this article? You may also like the following:
Advice FNM :We help you with the entire sourcing process so don't hesitate to contact us if you have any questions !
DocShipper | Your dedicated freight forwarder in Vietnam !
Due to our attractive pricing, many customers trust our services and we thanks them. Stop overpaying the services and save money with our tailored package matching will all type of shipment, from small volume to full container, let us find the best and cost-effective solution.
Communication is important, which is why we strive to discuss in the most suitable way for you!