You don't have the time to read this article? Play the bellow button and listen to it!
Buy in China and sell on Amazon is increasingly within the reach of everyone. As we enter the nineteenth century, we can see that commercial and digital transformation in the world has enabled us to acquire goods and sell them across the globe. Companies like Amazon, Rakuten, eBay, Alibaba and Aliexpress, among others, have changed our way of doing business and how we can reach the end customer and suppliers. And hang on because it's not over yet!

At the same time, this symbiosis allows any citizen to take advantage of these advances, technological and digital developments to create business models that were previously much more expensive and much more complex from a logistical, commercial and economic point of view ( we think in particular Drop Shipping which has exploded in recent years).
The 3 best shopping sites in China (and Asia)
One of the first considerations you have when shopping in China is, which is the best website to buy in China ... You also have doubts such as: Is it safe to buy there? How could I pay for these purchases in China?
There are many websites to buy wholesale in China, some are reliable, others much less ... We tend to think that everything that comes from China is falsified, it is not good quality or that they will deceive us. A reliable alternative is to find local sourcing or quality control specialists on dedicated marketplaces like ProcurementFreelancers.
Alibaba
Alibaba is by far the best known. Millions of sellers buy from this website from millions of sellers in China. It has a rating system and supplier feedback, similar to the one you know on Amazon.
Thus, you can be guided by this information to know if a seller is reliable, will be on time for delivery, makes returns, etc.
In addition, Alibaba has very good anti-hacker systems (in our opinion). For example, this is the only platform that, when you enter, asks you for a verification code that is sent to you by phone or email and gives you only 1 minute to enter the password.
Also, like Amazon and other important websites, these large platforms have our devices under control, whether we connect from an iPhone or a Samsung, what kind of computer we have, which IP we have to connect, etc.
We are therefore rather safe to navigate through the number 1 supplier platform in Asia.
We rely enough on Alibaba's payment systems more than any other similar website simply because they are one of the most important websites in the world, probably receive hundreds of computer attacks by week and despite this, no news has been released so far about a direct hacking of an account and payment systems.
Alibaba is in fact the most known platform in the world for B2B (and B2C) in Asia. But ... In addition to the payment system, the means of communication and other tools provided by Alibaba, customers are not covered by all the risks, this is what we will discuss a little further down in the article.
Note DocShipper: Do you want more information about this Chinese juggernaut? Do not hesitate to go directly to the French version of the site at the following link: Alibaba's website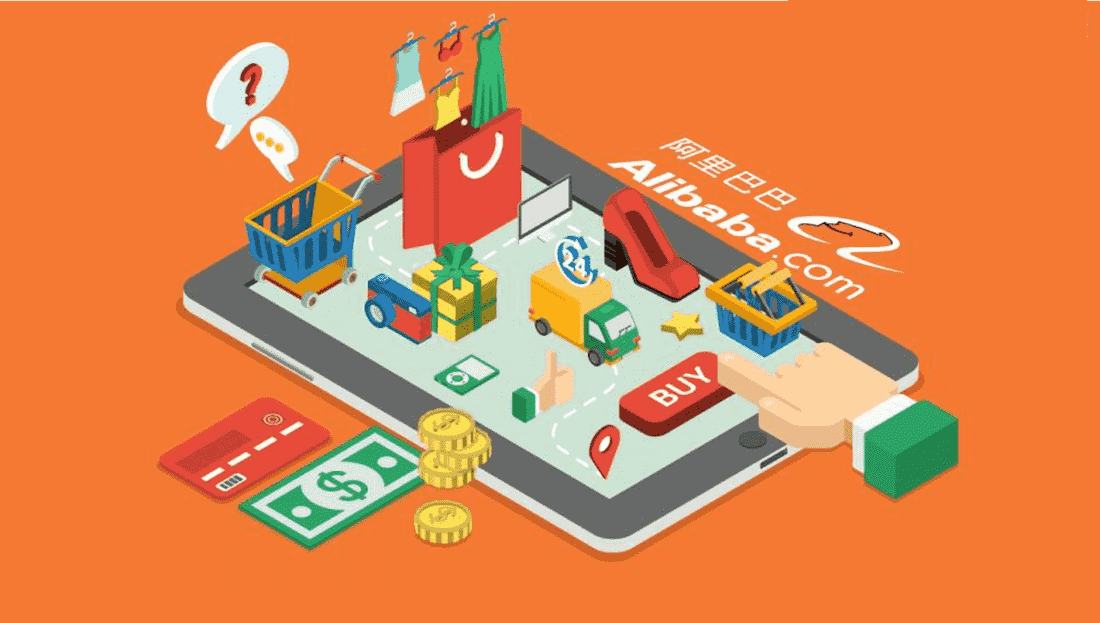 DHgate
DHgate.com is another of the most important websites to buy in China in a simple way. Obviously less known than Alibaba, even if it is not necessarily an obstacle.
It is another globally developed company with more than one million Chinese sellers and millions of buyers. They even created a very intuitive and easy-to-use application.
DHgate application:
Sometimes you can find the same sellers as Alibaba, but it is not uncommon to see a different offer, etc. A good alternative if you want to buy wholesale products in China. It is always better to compare several offers, especially on platforms less popular than the classic Alibaba.
DHgate has an option called Wholesale Flash Offers. If you have the patience, you will be able to save money on your future purchases with this option of temporary offer and super competitive.
HKTDC.COM
It is a company that is getting more and more on the European market and we can find it more and more especially with the advertisements they make on all social networks including Facebook particularly.
It has a style similar to Alibaba, but was born as a specialized platform on operations since (or to) Hong Kong.
The main categories of wholesale purchases in China that you can find here are electronics, clothing, general accessories for gifts and for home and jewelry.
We will discuss all internet sales platforms in a future article to give more details on the different options available to you to buy in China, from a distance ... Stay tuned!
Made in Asia
Buying a generic product and having it manufactured in Asia is far from the process. One is much simpler, much faster ... It is the purchase of generic product without customization.
On the other hand, when we start talking about "customization", "of sure measure", things become a lot more complicated! In case you want to buy specific products, techniques and / or with "customization", we advise you to use a specialized sourcing company ... Like DocShipper Sourcing!
We will find the suppliers, send the samples, negotiate your order, check the quality of production, the standards and finally the entire logistics process through our transport department. In short, we manage your supply from beginning to end, so you can focus on selling these products!
Tips for shopping safely on the internet (Alibaba, Taobao, 1668 ...)
Website with a high reputation and a supplier rating system.
Web site with HTTPS protocol.
Multi-language. Multilingual websites show us that it is a wholesale business that sells in dozens or hundreds of countries.
Web design. It does not matter if you are not an expert web designer or if you have no idea about it, but no one is stupid. A website with a clean and modern design, which loads quickly, which launches pop-ups with offers, etc., implies that behind him there is a serious company to take care of the management.
Customer service. Even if it's for a simple cat, maintaining a customer service system is very expensive and only the best ones do it.
Secure payment systems. even if you have to pay a commission.
As for the sellers, in these portals of wholesale purchase, there is a multitude of prices for the same product. You do not want to save a few cents by betting on new sellers, go to the sellers that seems the most reliable, especially those with the best ratings.
Buy in Asian wholesale to sell on Amazon
If you have decided to enter the world of online sales, to be your own boss and make money, it's time for you to join the club of merchants who are dedicated to buying in Asia and sell on Amazon.
And for that, we will give you more detailed information for the safest bet: Alibaba.
As you may know, the Asian giant is famous for producing large quantities of goods at very competitive prices and the North American giant is the ideal tool to generate sales.
The two marry perfectly to show how the world works today: two super platforms that gather millions of people to exchange goods.
And then at Amazon, there is the Amazon FBA service. You do not know this service? It is not complicated, you deliver your goods directly to the Amazon warehouses and they manage the rest of the logistics operations: receipt, inventory, and final delivery to the customer.
Here is a diagram that will help you understand the Amazon FBA system

Note DocShipper: We do not improvise salesman at Amazon FBA! There are a multitude of points to control and respect for your products to be approved by the US giant: sizes of packaging, specific labeling ... Any difference and your products will be refused so let professionals, like DocShipper!
You want more information on the services of the American firm, go directly to their dedicated page: Amazon FBA
How to find a niche product?
If you go first to Alibaba and you do not know what to sell, you will start browsing dozens of products, you will see bargains, you will see strange things and, surely, incredible ideas that could go to make you rich ... in your opinion. But maybe none of these things really have enough requests on Amazon and they are a failure.
So the first thing to do is to find a niche. In other words, a sector or a very specific product in which there is good demand with very little competition.
So, in summary, we will simply remind you of the most important points when choosing a product within Amazon.
Find the right product for Amazon
The first thing you need to do is follow the Amazon website in your country (or the country where you want to sell), to see which product you can sell there. This may seem insignificant, but not studying the environment you are going to attack is a big mistake.
For Amazon, you can (must?) Use dedicated tools that can retrieve and analyze the data according to selected criteria. You can make it much easier to highlight niche products based on a multitude of factors: frequency and volume of purchases, number of sellers, average sales price, estimated margin ...
Jungle Scout - Master Amazon to find products that work!

From product research to product launch, build & grow your Amazon business.
Product Database
Find winning products
Easily search for any product by keyword, categories or custom filters with Product Database. Save time with your research by drilling down to find products with high demand.
Product Tracker
Keep your finger on the pulse
Whether you're spying on competition or creating a selling strategy, the Product Tracker helps you find daily sales, inventory data, and revenue for any Amazon product.
Supplier Database
Source reliable suppliers
Jungle Scout's new Supplier Database helps you find qualified international suppliers based on your search criteria. View who their top customers are and the products they manufacture.
Keyword Scout
Optimize your listings
Use keywords or ASINs to discover what Amazon customers are searching for with Keyword Scout. With our insightful keyword data you can increase traffic to your product listings, improve PPC campaigns, and grow your business.
Sales Analytics
Manage and grow your FBA business
Jungle Scout's Sales Analytics tool is your financial command center. Organize and track your FBA sales, revenue, expenses, and other key metrics, view performance over time, and gain insights to reduce costs and raise your profits.
Inventory Manager
Master supply and demand
Know how much stock to order and when with powerful demand forecasting from Jungle Scout's Inventory Manager. Get a real-time view of your inventory status so you can boost your profits and avoid costly stock outs and fees.
Find a niche product - step by step
Have an open mind to sell anything. You do not have to be obsessed with selling a particular product if the market does not lend itself to it.
Brainstorm and write down the ideas that come to your mind. Write down things you can think of, things you see on TV, something weird your friend needs, or something that your mother likes strangely.
Get a tool like Merchantwords and Jungle Scout (which we mentioned just above). Measuring what you want to sell is vitally important, if you do not know how many people want to buy something or how many sales your competitors have, how will you succeed?
After this study, clean up your list and add ideas you can think of or find.
Choose 10 products from this list that you think you can sell, based on the analysis of previous tools.
Go to Amazon and look at competing products to find things like: Does Amazon sell you as a seller? Are your competitors' products rated in the hundreds? are their titles good? do they show good information on the cards? do they have good quality pictures?
Rearrange your ad based on this information.
Now, consider the size of the products and their weight, as your Amazon logistics rates will increase as this data grows. Also, avoid products containing dangerous substances, chemicals or others if this is the first time you do it.
Have you thought about the amount you want to invest? On this basis, you will need to rearrange your ad based on the price. To sell products from 10 € to 15 €, buy it in Asia, you will receive between 0,5 € and 3 € the unit. For products from 30 € to 50 € the investment you will have to make is much higher because on these wholesale markets you are obliged to buy a minimum amount.
Now you would be ready to buy in Asia. Visit Alibaba or one of these B2B marketplaces and find reliable suppliers who sell these products. Negotiate, discuss, do not buy at the price they tell you first, and most importantly, do not buy 1,000 or 5,000 units of tobacco in your first few months as a contractor. Errors in shipping or problems with customs can cause major problems.
How to buy in Asia on Alibaba - the most important details
Having said that, let's move on to Alibaba specifically, what you can find and the issues that will arise when you are in the negotiation or purchasing phase with the vendor.
As you all know, Alibaba is a portal on which you can buy wholesale and products mainly from China. So, the first thing you need to keep in mind is that whatever you are going to say through this platform will be in English (or Chinese if you have a chance to master the language / This is one of our many advantages in the sourcing process).
Why Alibaba and not another platform?
Because, in our opinion, the reliability and quantity of suppliers that this website provides is ideal for early research. Alibaba is more than a reference in the world of B2B. With huge budgets to develop the platform, you have an all-inclusive offer in one place: supplier search, product negotiation, order preparation, payments ... Everything is done on Alibaba!
We can not repeat it enough, Alibaba is simply the largest database of suppliers in the world. Because of this, you are sure to find the products you are looking for.
Note DocShipper: Alibaba is the largest client database, but it is also probably the biggest in scams! Indeed, how many fake providers are hiding behind company names that do not exist but now you have no way to control!
That's why it's better to use a specialized company (like DocShipper) when your purchases become important (in volume and / or value). We guarantee all supplier relationships: audit of the production chain and the supplier, verification of the status and licenses of the company, quality control of products ... But also (especially?!) Price negotiation!



Product search in Alibaba
You can use the Alibaba search engine directly in French and / or English to buy your wholesale products in Asia.
In fact, sometimes you get more and better results with a keyword in French and other times in English, so try both.
Once you start the search, you will find results with very juicy prices. And you will see things like this: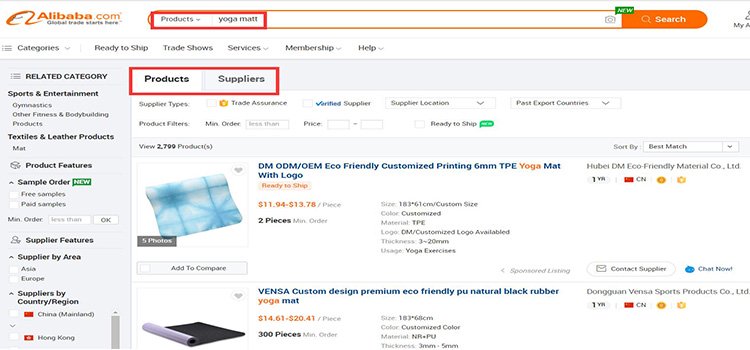 As we can see in the illustration just above, 2 points to note:
Some products are sold individually, others are sold by full set
Take into account the MOQ (Minimum Order Quantity): it is essential to consider this point during your purchases, it will have its importance in the negotiation of the price since it defines the minimum quantity of purchase. As such, some products are purchasable by unit (like the first one again) others have very important MOQs: 100 units, 200 units (like the 2nd product), 500 units see more ....
Attention DocShipper: A big mistake is to buy more units or lots than we had in mind just to get this cheaper product. Inventory management is one of the most complex things especially when selling on Amazon, so be careful. Find another supplier, negotiate, etc., but do not compromise your business and your money for that reason.
Find the supplier you need on Alibaba
Well, the easiest way to find an ideal supplier for your shopping in China (and Asia in general) is to use their search engines in an advanced way.
Here is an example of advanced filtering:

Ideally, you should use the minimum order and price cells. First of all, we recommend doing a general search, seeing what suppliers are, then looking at what they offer, what are the price and quantity scales, and so on.
Then do you search again by minimum order or price, adapting them to your needs, why? Because there are so many more providers than it seems and if you simply enter a keyword and see the results on the first page, you probably will not see the other suppliers that might be right for you.
Keep in mind that Alibaba has such a large number of suppliers that you will find (in general) what you need: small volume of purchase, large amount of production, customization ... Many options are available from the moment you get in touch with the suppliers. But you still have to know how to talk to them in the right way!
Tips for negotiating on Alibaba
Here are a few tips :
They are usually available at all times, every day of the week so do not hesitate to contact them even on weekends.
Good salespeople have an agent assigned to them, so you will always negotiate with the same person.
Do not approach sexy Asian people. It is not uncommon for sellers to put pictures of very pretty Asian girls for bargaining, but there is no woman behind that. This is done because it works, no more, no less. Those who do not know it and who leave tend to be more accepting of the conditions they give and negotiate less (statistics prove it!).
Ask the person to trade on WeChat, WhatsApp, Skype or others. WeChat (foremost) is a WhatsApp-like application. It works very well and it's very convenient, so you can make sure that you negotiate in the best conditions.
Master the MOQs. It is not uncommon (it's even rather common) that suppliers ask you for minimum purchase quantities. In this case, make sure to stay in your budget and especially to dilute your MOQ among several variety: product size, colors, model ... Note: The indicated MOQ is very often negotiable.
Negotiate the price. Make an effort to find at least 3 suppliers who serve you, negotiate prices and, without lying, tell them that the supplier X offers you 10% less than the supplier Y, in general the supplier Y will try to make a gesture, the unless he has the opportunity ..
International Freight: The plane is the most expensive and the fastest, the cheapest and the slowest boat, the train ... a middle ground still rather expensive but which tends to become more and more competitive.
Place of delivery: It is essential that you close the agreement by making sure that the shipping costs billed to you by the suppliers are all shipping costs from their warehouse to yours. Customs clearance and all customs fees included.
Legal documentation: It is also essential that you know if the products you are selling require special EU certificates. Certificates and other licenses are paramount, if your provider does not give them to you, go see another one.
Photos: You are going to sell on Amazon, if you ask your supplier to give you quality photos, you will save a lot of time and money. Ask them without fear.
Labeling or packaging: A tip. If you trade really well, you will be able to get, when you buy in Asia, a product that comes directly with the labels you need to sell your products in Amazon warehouses, for free. For that, you must first be registered on Amazon and have created, although in basic ways, the file of your product.
These are the most important points we recommend when you start buying on Alibaba to sell on Amazon.
Why buy in Asia and not in my own country?
This point is very controversial. There are many people in society who are outraged by this type of practice as if the local suppliers were discredited, but that is far from the reality. And, in our opinion, these people think without knowing.
Whether you choose a foreign supplier, through Alibaba, this will depend mainly on the type of product you want to sell. And second, it depends on the price. Why do you say that?
If you are going to sell a product that will require you to pass the standards of quality, toxicity, medical, materials, resistance, safety, etc., we recommend that you choose a local supplier, depending on the country in which you reside.
The main reason is that this type of regulation must comply with EU standards and guidelines and that many Asian companies do not have all the documents in order for all the products they offer.
We have seen cases of companies selling products that are injected onto the skin without the necessary regulations, or others that sell you ten different models of floats, of which only three or four models would comply with European standards.
For this type of products (beauty, health, supplements, toys, etc.), our recommendation is to go to local suppliers, even if your profit margin is a little lower.
However, most companies that you can create in Amazon, do not refer to this type of products, but to others that are much simpler and do not necessarily require supporting documents and compliance with European directives. For such products, the ideal is to find a foreign supplier because the costs are much lower.
Why are the costs lower when you buy in Asia than in Europe?
For decades, successive governments in Europe have not focused on growing the industrial fabric in the region by favoring service firms over manufacturing plants. As a direct result of this policy (and standard of living), prices in Asia are much lower than in Europe in the vast majority of cases.
Different political objectives that resulted in:
Low productivity of European companies.
High energy costs, making the product more expensive.
High taxes for businesses and little support for international expansion.
Wages, in comparison with productivity, make European companies not competitive compared Asian countries.
Little support for R&D and technological improvement of companies producing in Europe.
For products such as technology, telephony, mobility, art, decoration, tools, utensils, etc., European companies offer wholesale products at very high prices compared to other countries and in many cases, with a quality equal to or slightly higher than Asian products.
On the contrary, labor, business support and much lower energy prices make Asian countries much cheaper and more competitive.
In fact, the biggest drawbacks, the biggest obstacles and / or the greatest reluctance to hire Asian suppliers lie in the lack of knowledge of English to negotiate with them and the feeling of low reliability, poor quality and opportunity to be cheated and lose money.
But we can assure you that in Europe, the image of Asian companies is far from reality. They have very good products, very good prices and there are high quality products ... And for reliability, you naturally have DocShipper!
Handshake with Chinese companies from Alibaba
Performing the procedure to buy in China and sell on Amazon requires research. You should contact the Chinese companies that distribute the products you want to have. In addition, you must guarantee to get good prices, although you must not let yourself be carried away by the cheapest. If not for the quality product that is reasonably priced.
When looking for suppliers to import cheap products from China to sell on Amazon, check their scores and the comments of other people who have made purchases with them. Also, make sure these comments come from registered buyers and that there are comments and ratings from buyers from different countries, thus reducing the risk of falling into scams that can make you lose money.
Another important aspect is that you negotiate directly with manufacturing companies. Buying from intermediaries means that you will pay more for the products. What you really need is to reduce your purchase costs in Asia and for that, no mystery, trading!
FAQ - 🛒 BUY ON ALIBABA TO SELL ON AMAZON
What is the Alibaba website?
Alibaba is an online sales site that allows companies and individuals to obtain and sell products, in their own country and internationally. This site gives access to Asian and in particular Chinese suppliers.
How to pay with PayPal on Alibaba?
Here are the steps: Choose products that you can pay with PayPal and add them to your cart. Eligible products are those that have the Paypal logo in the means of payment. If an item is accepted by the seller, the PayPal logo will appear on the payment page. When you reach the payment, just click on Paypal icon.
What is the difference between Alibaba and Aliexpress?
The big difference between Alibaba and Aliexpress concerns the quantities of the products. As Alibaba is mainly intended for professionals, the quantities of products that you can buy will be quite large compared to Aliexpress.
How to cancel an order on Alibaba?
Log on to My Alibaba Area, and on My Orders, click on Cancel Order. If the product is awaiting shipment, it is possible to cancel the order. The seller must, however, confirm this.
Is Alibaba the same as Amazon?
Amazon and Alibaba are both e-commerce giants operating largely without physical stores. Amazon dominates the American shopping space, while Alibaba does the same in China. Also, Alibaba is more B2B while Amazon is more B2C.
DocShipper info: Did you like this article? You may also like the following:
Adivce FNM :We help you with the entire sourcing process so don't hesitate to contact us if you have any questions !
DocShipper | Your dedicated freight forwarder in Vietnam !
Due to our attractive pricing, many customers trust our services and we thanks them. Stop overpaying the services and save money with our tailored package matching will all type of shipment, from small volume to full container, let us find the best and cost-effective solution.
Communication is important, which is why we strive to discuss in the most suitable way for you!