In Vietnam and Hong Kong, there are many manufacturers that can build the product that you imagined. In order to be sure that the product will be exactly as you want, you have to make a product specification sheet. This sheet permits to detail each step and everything the manufacturer needs to know. In four easy steps, you can source your product.
Product Specification Sheet: definition
A product specification sheet can be compared to a detailed recipe to make your product. The document should give an overview. It contains different sections which explain every detail. It's short, but everything you need is inside. This document will be shared to your manufacturer in order to be able to make a quote.
Later, it will be useful for samples. The document will act as an evaluation form. We will see later in this article, in the sample evaluation process, that we make a list from the product specification sheet to check every detail that was required.
Be careful while making the product sheet to specify some details which are important to you. In fact, some manufacturers try to save money. It's also impossible to produce something completely perfect. You have to decide your quality standards.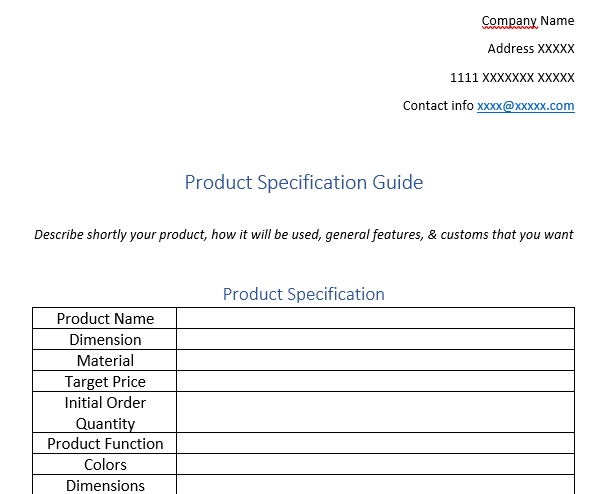 Create your own Product Specification Sheet
We are going to see how to make a product sheet. It's important to have a well-structured document. First, we will present the main part, then we will discuss further each part.
Product Summary
Keep it simple. Describe shortly your product, what is its purpose, and some details. If the product is more complex, you can write a bit more, otherwise, your reader will be bored. This part is to give a general idea.
Product Specifications
This part regroup all the basic information and stats about your product like the size, weights, raw materials, … It also includes information about the product mix like the target, the price, … It is usually made as a bullet list.
Bill of material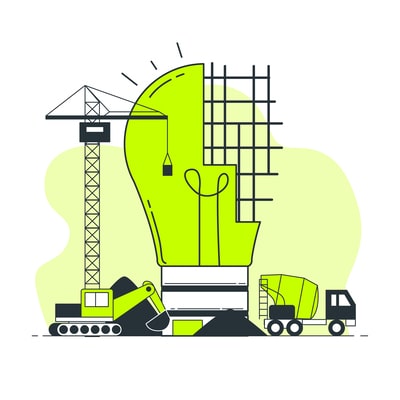 Here again, we advise you to make a bullet list. In this part, we recommend being specific for the most important ones. You have to list all the materials you will need to make the product. Often, factories already have some materials directly, but they may need to order some.
Photos
This part is very important because it can easily be understood by anyone, especially if you're dealing with manufacturer which speak a different language.
You will need two types of photos: first photos or sketches (if it is not created yet), second, diagrams which includes dimensions and scales to know the size.
Packaging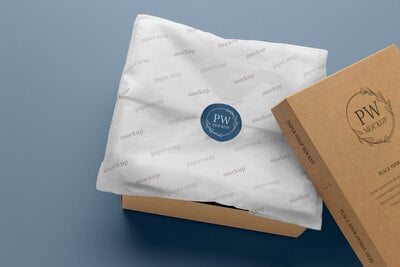 The packaging plays an important role because clients will have a look because it's part of the branding experience. It is also needed to protect the product during transport from one warehouse to another.
Besides, you will have to think about how many units you can put in a carton box. In fact, you can ship from China to your warehouse your product one by one, especially if it is a small one.
Compliance standards
Depending on where you're going to produce and import your product, you have to meet some compliance standards. We will go deeper in this subject later. Many standards are regulatory and have to be approved by the government. You have to decided if you want some or not, and some of them are acquired by the manufacturer, such as the ISO ones.
Advice FNM : FNM can help you meet your international standards. We offer a service of Legal & Compliance services. If you don't know where to start or if you want to check if the products comply with the specifications, we can do it for you. In this way, you can also be sure the tests will be neutral and reliable. Contact us now to know more about our services.
Another important element you can add
There is no perfect product specification sheet because every product is different. Still, you can add the following points depending on their relevance to your product:
The goal of your product, what problem does it resolve?
What do you want it to be made of? Describes the materials
Dimensions
Which features are you looking for?
Does it have to resist water?
Is it durable?
Does it need compliance standards? What are your standards ?
Colors: If it is really important, you can check the Pantone color codes which are global accepted as a color standard
What type of packaging do you want and does your product need?
Photos, sketches, graphs, diagrams, …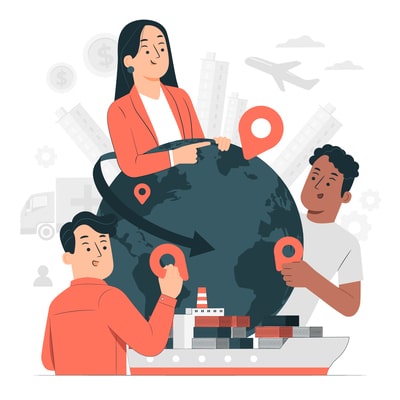 Be concise, go straight to the point, and don't hesitate to add pictures to illustrate (especially if it's easier to understand). Show your prototype or product, anything that can help to understand no matter your nationality and language.
From now, you should have a draft. Before being done with your final document, you should have edited it at least three times. With the previous point mention above, you have a first edit. Now you have to search more information about your product. The first draft will also help you find what you're looking for.
After your research, you should have found all your answers needed. Let's move one to the second edit and put everything together.
Find out everything you can about your product
The previous stage helps you find out what you wanted. Now, you have to focus on the information that will help the manufacture. Lucky you, we have easily access to different type of information thanks to internet.
Know how to make your product
When you make a product specification sheet, you are designing it. It's important to think carefully during the process about the manufacture in order to be able to actually produce it. Many people have great ideas, but they are difficult (or impossible) to make. Use internet and YouTube to have a good idea of the process.
Have a look on Amazon and Alibaba
Check the product description and details on these websites. You can find copy or product with similarities which can help you. Don't be afraid to be inspired by it.
Certifications and standards
During your research, you will probably notice various certifications on websites. Have a look and check the products' descriptions on Amazon. Also, remember that it is hard to find the right certification, don't worry and take your time.
Info FNM : A juridical experience is essential in order to constantly be up-to-date with new directives that are regularly refreshed. Our legal expert always check the certifications from our suppliers. If you work with us, you can be sure everything is checked and trustworthy. Ask our experts today, they will answer in less than 24 hours.
Customs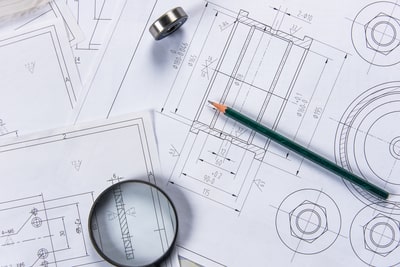 A great way to differentiate yourself from competitors is to custom your product. However, you have to keep in mind that it will increase your costs. Usually the manufacturer will create a mold or design on a computer. This first stage is a unique cost, if you want to make a custom, this one-time cost will be more expensive. So, you will need a better ROI in order to recoup this investment.
Tooling
These steps include the process of acquiring machines, tools, design, sketches, and files to be able to make your product. When you will select your factories and manufacturers, be careful and sure that they have the equipment. Normally, they will let you know, but stay watchful. We advise visiting physical factories or hiring a company to do so.
Molding
The most common tool to make a product is to mold, especially in plastic injection. The process is the following: creating a mold that can be injected by a liquid that will harden into a shape. Many molds are in metal, and a good one can be very expensive, like a few thousand. The advantage is that once it's created, you can use it for a very long time.
3D Printing, CNC, and more
Those methods are more complex. For 3D printing, you have to make a digital model thanks to a software by a qualified person. The file will be then sent to the printer, and you'll just have to wait.
The CNC machine is kind of similar, but it creates the object from existing material, whereas the 3D printing create every piece.
In both cases, keep in mind that you will need to pay somebody to do it.
Make something feasible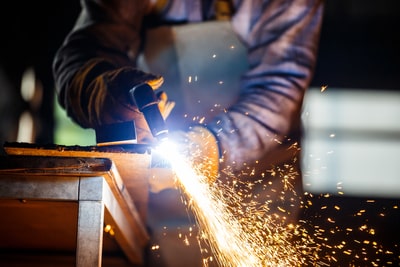 If you have followed all the previous steps and research, you should now have enough knowledge on the manufacturing process. You should read everything again and check what you can improve. You may have missed some details that can be adjusted because you didn't know enough about the subject.
If you want something cheap or not too expensive, you have to reduce the number of steps and make it as easy as possible. We also recommend in this case to do as much as possible in the same factory and not do some outsourcing. If you do so, you need to be careful that the factory understand exactly what you want.
Now, you should review it again and adjust what's need to be changed in the document.
Advice FNM : We have a strong network of suppliers. We can help you find the best partner for your product. We can also support you in your research. Furthermore, we have experts that can answer your questions anytime and can help you find what you're looking for.
Photos
The document should have a lot of pictures, illustrations, and drawings to show precisely how the product is. The more, the better, because it is worth a thousand words. Don't hesitate to include elements of your prototype if you have one with dimensions, same for colors.
Finish the sheet
After studying what you wanted on the product sheet, you realized what you needed. Now you have ensured that the product specification sheet contains everything to make
All you have left to do is to read through everything again and clean to make it readable. Let the technical details, but some parts may need to be shortened or removed. Use a simple English because you may work with a salesperson or an engineer who is not a native speaker of English. They will probably use a translator.
To be honest, you will probably update this document a few times again during the sourcing process. It is very common to work on it again until the final manufacturing step.
Format of the document
Many documents are made through Excel or Word, but you will send it in PDF. You will be sure that it will not be modified or different. Also, the document will be shared between member of the team and probably be printed. You should put page numbers, headers, anything that can help to understand clearly the sheet. Insert a footnote with your contact information just in case.
If you have any question, feel free to contact us!
FAQ | Manufacturing in Vietnam: how to make a product specification sheet?
How to start a product specification sheet?
You can write questions or headers first to help to know where to start. Then, follow our advices and complete your document by making researches. The more you know about the product, the better it is.
How can I be sure it is well-made?
Go through every step again, read carefully and add anything that you think is relevant. Let somebody else read your work and see what you can be improved.
Why should I make a product specification sheet?
This document will help you to know exactly what you want and how you want it. It is the beginning, without this sheet, you will not be able to start your production. In fact, your manufacturers need to know where you want to go, they can't tell you where. Their job is to make the product.
DocShipper info: Did you like this article? You may also like the following:
Adivce FNM :We help you with the entire sourcing process so don't hesitate to contact us if you have any questions !
DocShipper | Your dedicated freight forwarder in Vietnam !
Due to our attractive pricing, many customers trust our services and we thanks them. Stop overpaying the services and save money with our tailored package matching will all type of shipment, from small volume to full container, let us find the best and cost-effective solution.
Communication is important, which is why we strive to discuss in the most suitable way for you!